Études sur la maladie des vers à soie, moyen pratique assure de la combattre et d'en prevenir le retour.
Volume 1: La pébrine et la flacherie.
Volume 2: Notes et documents.
---
Pasteur, Louis, 1822-1895.
Paris : Gauthier-Villars, successeur de Mallet-Bachelier, 1870.

Volume 1 : xii, 322 p., (36 pl.), [2] fl. ; ill., 21 eng., 15 photo., 13 fig. ; 23.6 cm.
Volume 2 : 327 p., (1 pl.), [1] fl. ; ill., 1 photo. ; 23.6 cm.

Photographs : 14 heliolithographs, 2 photogravures.

Photographer : Peter Lackerbauer (1823-1872).

Subject : Silkworm — Diseases (of).

Notes :
Norman Library 1657.
Norman copy sold at Christies on Oct. 29, 1998 ; Freud-8976, lot 1239.
GM 2481.
Osler 1549.
Index Medicus: 11300231100.
---
Pasteur's five-year investigation of silkworm blight saved the afflicted French silk industry, which over the preceding twenty years had suffered a sixfold reduction. He discovered that pébrine and flacherie, previously thought to be different manifestations of the same silkworm disease, were in reality two separate afflictions, the first parasitic and the second environmental in origin. As both diseases are hereditary as well as contagious, Pasteur recommended discarding all infected eggs and pupae and controlling as far as possible the environmental conditions in silkworm hatcheries. — Norman.
Pasteur spent five years investigating silkworm disease before he discovered its cause. — Garrison & Morton.
• • •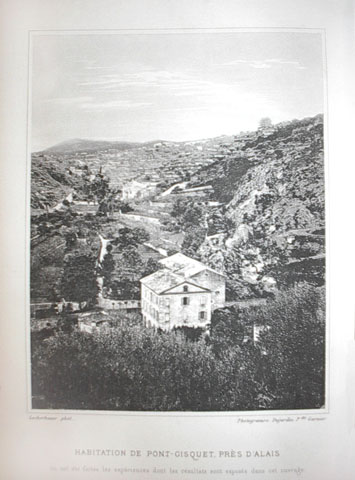 Frontispiece to Volume 1, captioned:
Lackerbauer photo. Photogravure Dujardin P. de Garnier
Habitation de Pont-Cisquet, Près D' Alais
où ont été faites les expériences dont les résultats sont exposés dans cet ouvrage.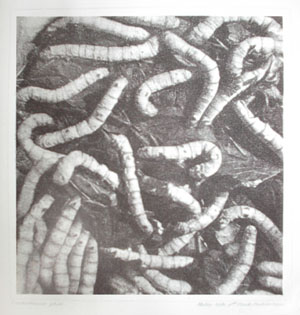 Lackerbauer was a brilliant lithographic artist and photographer who applied his mastery in both techniques to learn photo-lithography which he demonstrated at the 1867 Paris exposition. Fourteen of the prints for this book are early examples of photo-lithography and were made on lithograph presses using the same type of limestone block that is used for reproducing artist drawings. Lackerbauer is remembered for the exquisite drawings he prepared for Lebert's atlas Traité d'Anatomie Pathologique générale et spéciale ( Paris: J.B. Baillière et Fils, 1857-61).
---

©All rights reserved.