Supplement to the report of a case of xenomenia,1
made at the first annual meeting in 1876.
1Gynecological Transactions, vol. i. p. 135.
---
Parvin, Theophilus, 1829-1898.
Transactions of the American Gynecological Society.

Boston: Houghton, Osgood and Company, 1878.

Volume 2., for the year 1877., p. 482.

Illustrated: 2 heliotypes on separate leaves.

Subject: gynecology.

22.5 cm.

Photographer: Cassius Alley.
---
Parvin was president of the American medical Association in 1879 and a professor of obstetrics at Jefferson Medical College, his tenure beginning in the year 1883. Regarding this odd case he writes:
I mentioned [at the last meeting of the Society] that the subject of this abnormal menstruation had escaped from the institution of which she was an inmate, and was no longer under observation. Since that time, however, she has returned to the Reformatory, and I have had the opportunity of observing her at the three last menstrual periods. Formerly there was decided hemoptysis and some oozing of blood from the lower lip at such periods, but now these do not appear, and are substituted by great swelling of the tongue, so that for four of five days each month articulation and mastication are exceedingly difficult.
In his first report of this case, Parvin writes that his fourteen year old patient was born to wealthy parents but became a "castaway" and subsequently "led a life most unfavorable for healthy physical, intellectual, or moral development." Parvin's diagnosis has then to be weighed against the mental instability of his patient and all the subterfuges a disturbed adolescent girl is capable of perpetrating. Nor does it credit his conclusions to learn that Parvin, for his many ponderous medical journal contributions, provoked the sting of Osler's wit. With Parvin as his object and writing under the pseudonym Egerton Y. Davis, Osler fabricated a case of penis captivus and submitted it to the Philadelphia Medical News which printed it on December 4, 1884.
Because his studio was the most active in Indianapolis at the time, I am attributing these remarkable images to the photographer Cassius Alley.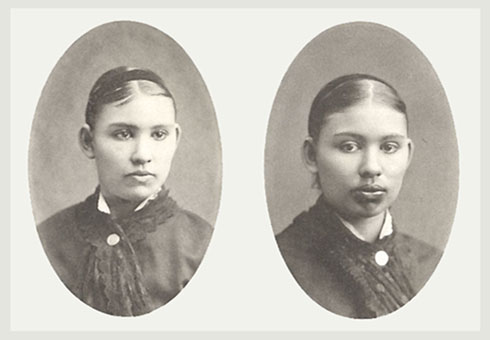 ---

©All rights reserved.