The morbid psychology of criminals.
---
Nicolson, David, 1844-1932.
Journal : The journal of mental science ; vols. xix-xxi.

London : J. and A. Churchill, 1873-1876.

Description : v. xix: pp. 222-, 398- ; v. xx: pp. 20-, 167-, 527- ; v. xxi: pp. 18-, 225-, [1 l.] pl. ; ill.: 1 photo. ; 25 cm.

Photograph : 10 heliotype portraits on 1 leaf.

Subject : Brain function — Cognitive & developmental disorders.

Notes :


Author caption: By DAVID NICOLSON, M.B , &c., Medical Officer, Her Majesty's Convict Prison, Portsmouth.
Medical Superintendent, Broadmoor Criminal Lunatic Asylum, 1876.
Superintendent of same, 1886-96.
President of the Medico-Psychological Society of Great Britain and Ireland, 1895-96.
Lord Chancellor's Visitors in Lunacy, 1896.
Photo caption: TYPES OF WEAK-MINDED CRIMINALS.
Numerous citations.
Index Medicus: 10305091020, 10609571500.
---
The accompanying pictures in heliotype, taken from original photographs, are sufficiently well-marked to form typical illustrations of the physiognomy in weak-minded criminals : —

1. — An Irish pig-driver. Crime — Rape and Manslaughter, with one previous conviction for theft. Remarkable baboon-like expression — a veritable "missing link." Simple mental weakness, with animal propensities.

2. — A habitual criminal. Crime — wounding with intent to do grievous bodily harm : twenty-seven previous convictions, mostly for robbery. Gross, violent and brutish. Hopelessly intractable. Emotional exaltation of mind.

3. — Crime — Arson: after seven summary convictions for theft and misdemeanour. Cunning, treacherous and violent. Mental exaltation.

4. — Crime — Larceny : two previous convictions. Fanciful, destructive, and vicious. Ugly, weak countenance : has high notions of his personal attractions; numerous delusive ideas. Delusional exaltation.

5. — Crime — Rape : nine summary convictions for drunkenness and assault. Low-minded, sullen, obstinate, and determined : prison delusions about food and injustice of sentence ; violent and threatening in manner. Delusional exaltation.

6. — One of the " worst of men." Habitual criminal : thief from boyhood. Cunning, quarrelsome, irritating and mischievous, full of cowardly threats. Mental irritability. Emotional exaltation.

7. — Respectable, a casual criminal, a post-letter carrier, convicted of breach of trust. Mind a " prey to black despair." Melancholia with home sickness.

8. — Crime — Burglary, with three previous convictions : most likely the tool of others. A wretched, scrofulous creature; poverty of intellect, and some tendency to irritability and even extravagant fancies. Simple mental weakness.

9. — A boy, almost idiotic : convicted of an unnatural offence. Generally well-behaved in prison. Simple mental weakness.

10. — Crime — Manslaughter : agricultural labourer. Almost a mental " automaton." Lamentably weak, but behaves well usually. Simple mental weakness.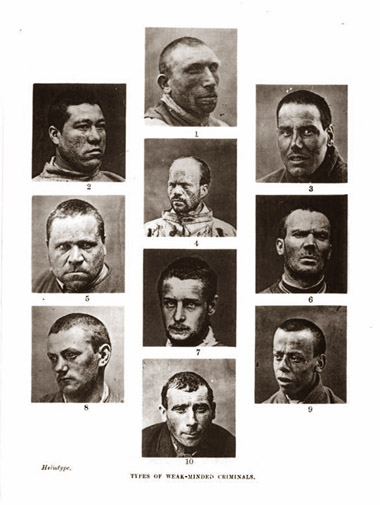 ---

©All rights reserved.