Practical observations on the Harrogate mineral waters and chronic diseases. With cases.
---
Myrtle, Andrew Scott, 1825-1907.
London : John Churchill ;
Harrogate : Robert Ackrill; T. Hollins, 1869.

Description, 2nd edition with additions : [i]-xvi p., [1 l pl.], [1]-103 p. ; ill., photo. frontis., 1 tbl. ; 20 cm.

Photograph : mounted albumen portrait.

Photographers : Thomas Holroyd, 1822-?, & James Holroyd, 1827-?.

Subject : Hydrotherapeutics — Harrogate water.

Notes :


Author caption: by Andrew Scott Myrtle, M.D. & L.R.C.S.E., mem. of the Med.-chir. and Obst. Socs., Edinburgh; correspond. mem. of Med.-chir. Soc. of Glas., etc.
President of the Harrogate medical society.
First edition, 1867 (not illustrated).
Third edition, 1874.
Fourth edition, 1893.
Fourth edition co-authored with his son, James Aitken Myrtle, 1861-1901.
Photo caption: Dr. Sheridan Muspratt, M.D., F.R.S.E., the discoverer of the chloride of iron spring. Photographed from Life by T. & J. Holroyd, Harrogate.
Named: [James] Sheridan Muspratt, 1821-1871.
Index Medicus: 10508581300.
---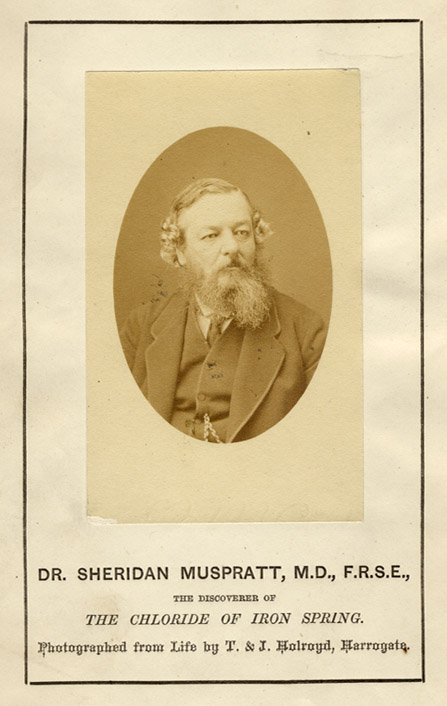 ---

©All rights reserved.