Photographs of a case of osteitis deformans.
---
Morris, Henry, 1844-1926.
Journal : Transactions of the Pathological Society of London, vol. 34.

London : Smith, Elder and Co., 1883.

Description : 188-199 p., [1 l. pl.] ; ill.: 3 photos. ; 22 cm.

Photograph : 1 leaf of autotypes, three full-length views of the nude subject.

Subject : Skeleton — Paget's disease.

Notes :


Author caption: By HENRY MORRIS, M.S.
Surgeon, Middlesex Hospital, 1879-1889.
President, Middlesex Medical School, 1906-1907.
Author: The Anatomy of the Joints of Man, Philadelphia, Lindsay & Blakiston, 1879.
GM 4292.1: first nephro-lithotomy.
Hunterian Orator, 1909.
Identity: Sir James Paget, 1814-1899.
Index Medicus: 11002241400.
---
DESCRIPTION OF PLATE XIII.
Illustrating Mr. Henry Morris's case of Osteitis Deformans.
Three photographs, reproduced in autotype, representing a case of Osteitis Deformans in the erect, sitting, and recumbent postures. The curvature of the lower limbs and back is shown in all. — Plate facing page 188.
• • •
On June 6th Sir James Paget saw him and declared the case to be a typical one of osteitis deformans On this day the subjoined photographs were taken. — Page 191.
• • •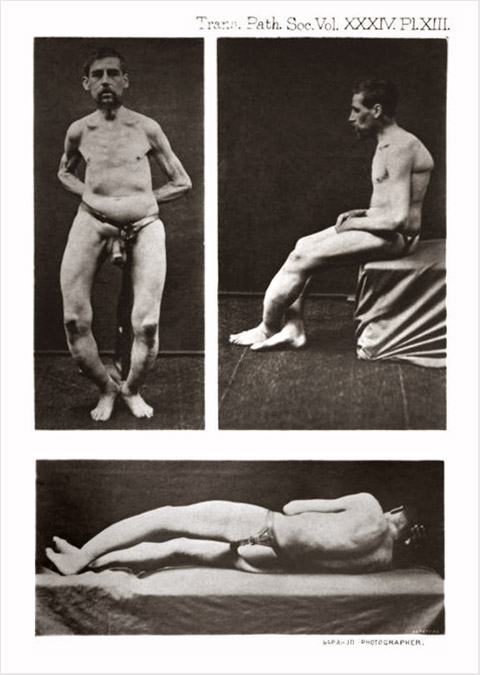 The nude male subject represented by the three photographs was a 42 year-old painter, first affected by the disease in 1871. The diagnosis was confirmed by Sir James Paget who believed that osteitis deformans was an inflammatory process. Current research into the paramyxovirus promises to confirm his view. As Paget's disease rarely develops before the age of 40, this might be considered an unusual case.
---

©All rights reserved.