Rendiconto clinico della sezione chirurgica maschile diretta dal dottor Giovanni Mori medico-chirurgo direttore dell'ospedale di Brescia.
---
Morelli, Giovanni Battista.
Brescia : Stab. Tip. Lit. F. Apollonio, 1884.

Description : [1]-109 p., [1 fold. l.] pl. ; ill.: 6 phot. figs., tbls. ; 24.5 cm.

Photographs : 1 leaf of printing-out paper with 6 images.

Subject : Hospital reports — Surgery ; Orthopedic surgery.

Notes :


Author caption: PEL DOTT. GIO. BATT. MORELLI — CHIRURGO PRIMARIO AGG. — in detta Sezione.
Includes errata sheet.
Plate caption: MORELLI—Rendiconto Clinico—1883.
Repositories: Biblioteca Universitaria di Pavia & National Library of Medicine.
Unidentified photographer's marks in two of the photographs.
Index Medicus: 11309311320.
---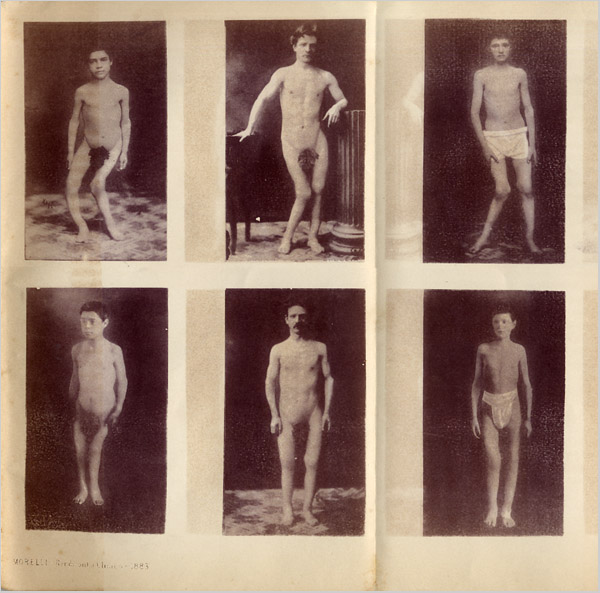 Represented by the photographs is the condition of genu valgum affecting three male patients, showing their deformity before and after orthopedic surgery. A total of 118 various cases are reported in this hospital memoir, and each case is provided with a brief description written by Morelli. There is a printer's error in the count, however, with two separate patients both numbered "104." Another 289 patients were treated for trauma at the hospital, but these cases are not described.
---

©All rights reserved.