Rodent cancer,
with photographic and other illustrations of its nature and treatment.
---
Moore, Charles Hewitt, 1821-1870.
London : Longmans, Green & Co., 1867.

Description : [i-xv], [1]-128 p., [5 l.] pl. ; ill.: 5 phot., 4 engrv. figs., 20 cm.

Photographs : 5 albumens mounted on 3 printed leaves.

Photographer : Charles Heisch.

Subject : Face — Basal cell carcinoma.

Notes :


Author caption: BY CHARLES H. MOORE, F.R.C.S. AUTHOR OF THE 'ANTECEDENTS OF CANCER' | VICE PRESIDENT OF THE ROYAL MEDICAL AND CHIRURGICAI SOCIETY OF LONDON | SURGEON TO THE MIDDLESEX HOSPITAL, TO ST LUKE'S HOSPITAL FOR LUNATICS, AND TO THE ARTISTS' BENEVOLENT FUND.
Medical studies at St. Bartholomew's Hospital.
Medical degree, 1842.
Postgraduate study in Berlin and Vienna, 1845-1847,
Appointed, demonstrator of anatomy, Middlesex Hospital, 1847.
Junior surgeon, University College Hospital, 1848.
Lecturer of anatomy, Middlesex Hospital, 1848-1867.
Joint-Lecturer, systematic surgery, University College Hospital, 1869.
Moore translated Rokitansky's manual of pathological anatomy from the German.
Index Medicus: 10206761200, 10904391040, 20301331620.
Cited :

Gernsheim, Helmut, Incunabula of British Photographic Literature ; London, Berkeley – Scolar Press, 1984 ; number 361.

Taureck, Renata, Die Bedeutung der Photographie für die medizinische Abbildung im 19. Jahrhundert (1980) ; p. 194 :
Five original photographs (by Charles Heisch), ca. 6 x 6 cm, and two woodcuts from photographs, portraits of Ulcus rodens patients. One of these photographs is also in the album, Photo-collection of the Royal Society of Medicine, London.
---

Fiq. 1. The aperture remaining in the face and nostrils after the healing of the wound made in removing a large Rodent Cancer. Case I. Photograph by C. Heisch.
Figs. 2 and 3. Photographs of a large Rodent Cancer of the Face before operation.
Figs. 4 and 5. Photographs by C. Heisch, showing the same face after operation and death from bilious cholera, and the contraction of the aperture resulting from the process of healing.
(Figs. 2, 3, 4, and 5 belong to Case II.)—Page xv.
Some notion of the formidable character of the disease may be obtained from an inspection of the photographic drawings, Nos. 2 and 3 ; but these representations fall short of the reality, as they exhibit only the rugged orifice in the face, the vast cavern amongst the bones behind it not being lighted up and visible.—Page 74.
The photographic figures, 4 and 5, taken by my colleague Mr Heisch, exhibit the appearance of the face after death. Nothing is more remarkable in them than the diminution of the size of the aperture since the second operation.—Page 90.
• • •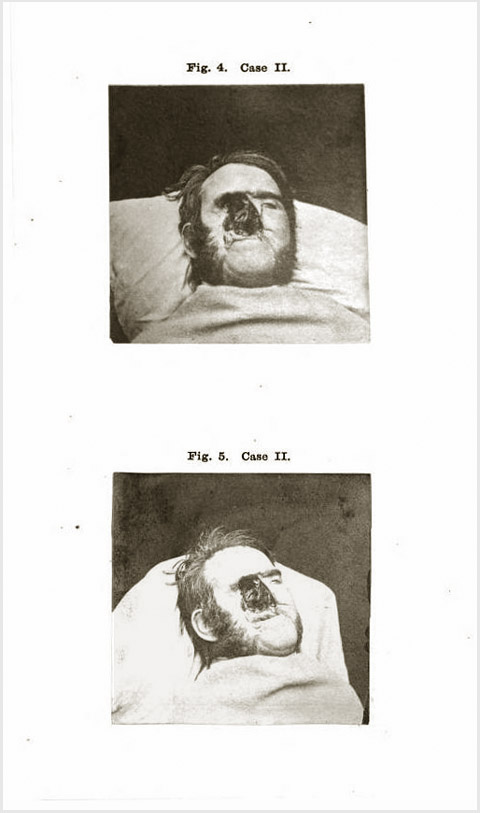 The first photograph, captioned Fig. 1 Case I., is a head shot of a 70 year-old female wearing a bonnet, her right orbit destroyed by a cratering cancer originating from a long-standing mole that suddenly turned malignant. The other four photographs are also head shots, representing Case II., a 54 year-old country postal worker with a deep seated tumor of 13 years duration. Two of the images (figs. 2 & 3) were taken before surgery, and two were taken after surgery and death (figs. 4 & 5). In sum, fourteen cases of epithelial cancer affecting the face and head are discussed.
Moore established modern principles for the surgical treatment of cancer in a paper titled, On the influence of inadequate operations on the theory of cancer (1867, see GM 2619). With his colleague, Charles Murchison (1830-1879), he innovated the technique for repair of aneurysms with wire passed through the aneurysmal sac (1864, see GM: 2980).
---

©All rights reserved.