A case of lightning stroke.
---
Mackay, John Yule, 1860-1930.
Journal : Glasgow Medical Journal ; vol. xx.

Glasgow : Alex. MacDougall ;
London : H. K. Lewis, 1883.

Description : [1 l.] pl., 321-329 p. ; ill.: 1 phot., 3 figs. ; 22 cm.

Photograph : autotype of the subject's upper arm.

Photographer : George Bruce of Dunse.

Subject : Skin — Trauma ; lightning injury ; keraunographic figures.

Notes :


Author caption: By JOHN YULE MACKAY, M.B., Senior Demonstrator of Anatomy, University of Glasgow.
Appointed, chair of anatomy, University of Dundee, 1894.
Appointed, Principal of the University of Dundee, 1897.
Reprint: (1883) New York Medical Abstract. New York: Medical Abstract Press ; vol. iii., (p. 472-475).
Reprint has an in-text drawing of the photograph.
Includes bibliography.
Inscribed in negative: copyright.....autotype.
Index Medicus: 10801371590.
---
We are thus indebted to Mr. Gunn for the promptitude with which he has acted, and for the production of the first photograph of a phenomenon which, until now, many have regarded as fabulous. The photograph is the work of Mr. Bruce of Duns. — Page 323.
The marks were of a ramified tree like form and seemed to radiate from two centres as if the lightning had first struck the arm in two places and had thence broken over the surrounding skin They were believed by many to be photographic images of a yew tree or of the fronds of a fern but unfortunately for the holders of this theory no vegetation of such a description was within sight. — Page 322.
Very numerous examples might be given of the wonderful powers which lightning was once reputed to exhibit, but it is only necessary to mention its so-called photographic action, as it is that which bears most directly upon our subject. The electric flash was believed to possess the property of reproducing accurately, upon the clothes or skin of its victims, images of the surrounding objects, and in the works of the older writers many instances of the kind are given. These representations seem to have been of the most diverse kind. Trees are most commonly described, but in one case a cow, in another a horse shoe, in a third a piece of furniture, and in a fourth the whole surrounding landscape is mentioned. Dr. Strieker* of Frankfort quotes from Raspail the case of a boy, who, while climbing a tree for a bird's nest, was struck by lightning and showed afterwards upon his breast a complete picture of the tree, with the nest upon one of its branches. — Page 323.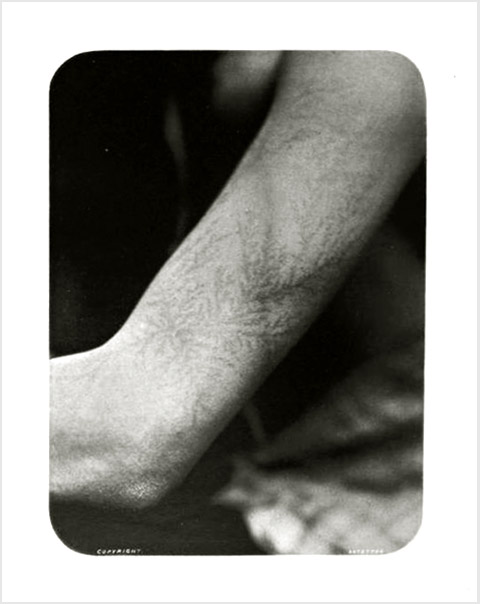 First published photograph of the characteristic filigree patterning left on the skin after a lightning strike. The patterns are called Lichtenberg figures after the German physicist, Georg Christoph Lichtenberg (1742–1799), who built a manually operated capacitive generator that was powerful enough to flash these electrostatic ferns across a dusted platen. Four boys were struck while sheltering against the rain by standing in the door of a stable, but it was the 13 year-old son of William Gunn, the town pharmacist, who turned out the most arboresque. The color derives from extravasation of blood cells and is not a burn or erythema.
---

©All rights reserved.