Pseudo-hypertrophic paralysis in four brothers.
---
Macphail, Donald, 1853-1931.
Journal : Glasgow Medical Journal ; vol. xviii.

Glasgow : Alex. MacDougall ;
London : H. K. Lewis, 1882.

Description : [1 l.] pl., [1]-7 p. ; ill.: 3 phot. ; 22 cm.

Photograph : 2 photoengravings (3 images) on 1 leaf.

Subject : Muscular system — Pseudohypertrophic dystrophy.

Notes :


Author caption: By DONALD MACPHAIL, M.D., Whifflet.
Index Medicus: 11004701350.
---
EXPLANATION OF PLATES.
The first photograph represents George, aged 7, duration of disease under a year. The other two represent Abraham, aged 10, duration of diseasa four years ; and John (sitting), aged 14, duration of disease eight years. — Page 7.
• • •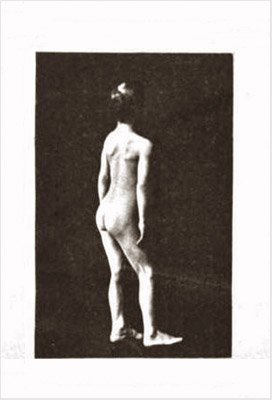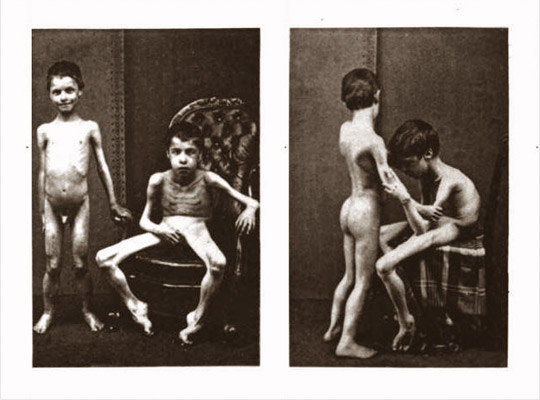 The subjects of this paper are sons of a coal miner. Missing from the photographs is the fourth and oldest brother who died several years before MacPhail began his study. Of the three brothers represented, the oldest boy sits in an upholstered chair exhibiting the wasting structures of the disease, the club feet and a sulcus below his ribs that is so deep that MacPhail believed his stomach was displaced into the hypogastrium. A side view of the boy's seating posture demonstrates a pronounced forward pelvic rotation, showing that he actually sits on his sacrum. In this view he holds on to the arm of his brother to keep balanced.
---

©All rights reserved.