Three cases of compound complicated hare-lip, occurring in the same family; operation for restoration of lips; with remarks on the operation for cleft palate.
---
Little, James Lawrence 1836-1885.
Journal : Illustrated Medicine and Surgery.

New York : E.B. Treat, Vol. 2., 1883.

Description : [1] l., 111-114 p. ; ill., 1 leaf of plates ; 30.5 cm.

Photographs : 6 artotypes, clinical portraits, on 1 leaf.

Photographer : O. G. Mason (attributed).

Subject : Plastic Surgery — Palatorrhaphy, Uranostaphylorrhaphy.

Notes :


Author caption: (unverified).
Medical diploma, Bellevue Hospital Medical College, 1860.
Clinical Assistant to Willard Parker, 1863.
Lecturer, College of Physicians and Surgeons, 1863.
Chair of Surgery, University of Vermont, 1875.
Professor of Surgery, New York Post graduate Medical School, 1882.
Only two volumes of the journal published.
Edited by George Henry Fox & Frederic R. Sturgis.
Second edition printing, 1892.
Caption: Artotype, E. Bierstadt N. Y.
Index Medicus: 10802201210.
---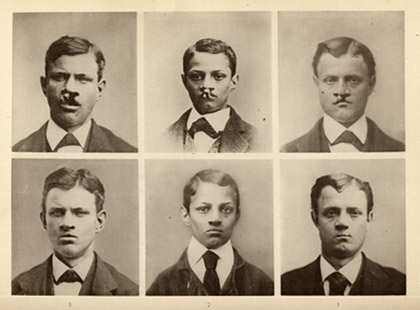 ---

©All rights reserved.