Three cases of compound complicated hare-lip, occurring in the same family; operation for restoration of lips; with remarks on the operation for cleft palate.
---
Little, James Lawrence 1836-1885.
Journal : Illustrated Medicine and Surgery.

New York : E.B. Treat, Vol. 2., 1883.

Description : [1] l., 111-114 p. ; ill., 1 leaf of plates ; 30.5 cm.

Photographs : 6 artotypes, clinical portraits, on 1 leaf.

Photographer : O. G. Mason (attributed).

Subject : Plastic Surgery — Palatorrhaphy, Uranostaphylorrhaphy.

Notes :


Fellow of the American Surgical Association.
Professor of Surgery, University of Vermont.
Professor, Post-Graduate School of New York.
Second edition printing, 1892.
Caption: Artotype, E. Bierstadt N. Y.
Index Medicus: 10802201210.
---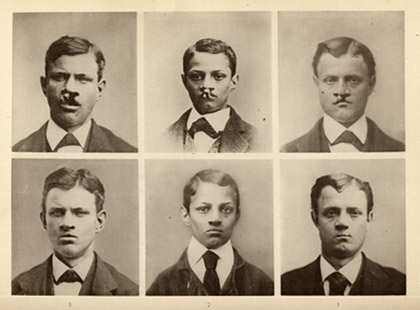 ---

©All rights reserved.