The human brain:
histological and coarse methods of research. A manual for students and asylum medical officers.
---
Lewis, William Bevan, 1847-1929.
London : J. and A. Churchill, 1882.

Description : xvi, 163 p., [18] p. adv. ; ill., [4] leaves of plates, 22 cm.

Photographs : 4 mounted albumens.

Subject : Physiology. Brain.

Cited :

Stenger, History of Photography : Its Relation to Civilization and Practice, Easton, Pa., Mack Printing, 1939 ; pp. 109-110.

Clarke, Edwin & O'Malley, Charles Donald, The Human Brain and Spinal Cord : A Historical Study Illustrated by Writings from Antiquity to the Twentieth Century, San Francisco, Jeremy Norman Co, 1996 ; p. 440.

Garrison, Fielding H., & McHenry, Lawrence C., History of neurology, Springfield, Ill., Thomas [c1969] ; pp. 176-78, and fig. 78 :

The modern era of research in the structure of the cerebral cortex … was carried further by the delineation of the cellular layers of the cerebral cortex…. Bevan-Lewis (1878) established the general existence of pyramidal cells in Meynert's fifth layer and divided the cortex into six cellular layers. Bevan-Lewis's diagram was later adopted by Vogt and Brodmann, and is still in general use today despite repeated changes in the designations or names of the cortical layers.
---
The following images are linked to enlargements :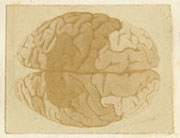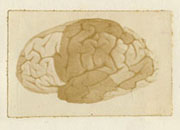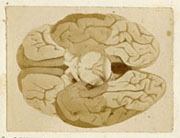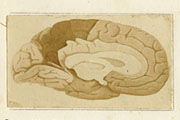 ---

©All rights reserved.