Die Magensonde. Die Geschichte ihrer Entwicklung und ihre Bedeutung in diagnostisch-therapeutischer Hinsicht.
---
Leube, Wilhelm Olivier von, 1842-1922.
Erlangen : Eduard Besold, 1879.

Description : [i]-viii, 1-83 p. , [1] p., [2 l] pl. ; ill.: 2 photo. ; 26 cm.

Photographs : 2 collotypes reproducing drawings.

Photographer : J. B. Obernetter.

Subject : Stomach — Instruments ; Stomach tube.

Notes :
Author caption: von Dr. W. O. Leube, O. Ö. Professor der Speciellen Pathologie und Therapie, Director der Medicinischen Klinik zu Erlangen.
Medical studies, Tübingen and Zurich, 1861-65.
Specialty training in physiology and chemistry, 1866-68.
First Assistant, Ziemssen's Clinic, Erlangen, 1868.
Professor extraord., Erlangen, 1872.
Director, Jena Medical Clinic, 1872.
Professor, Erlangen, 1874.
Eponym: Leube's Fleischsolution.
Includes bibliography.
Index Medicus: 10202931280, 10800721400, 11307431400.
---
I must not neglect, however, to acknowledge to what great extent we are especially indebted to Kussmaul and Leube, who so successfully inaugurated the new era in the investigations on the diseases of the stomach.1
At the Naturforscherversammlung at Rostock, in 1871, Leube asserted the possibility of using it [tube] for diagnostic purposes and as later developments proved, opened up an excellent means of examination. Yet in his early investigations Leube as well as his predecessors exclusively used a stiff tube or a rubber tube with an elastic but more or less rigid whalebone stylet. This procedure has many inconveniences and disadvantages.2
• • •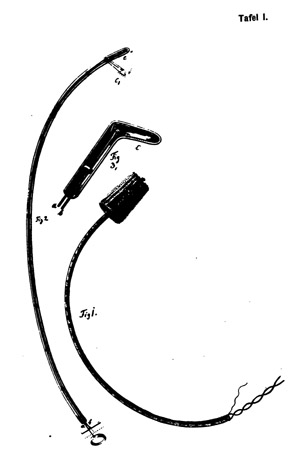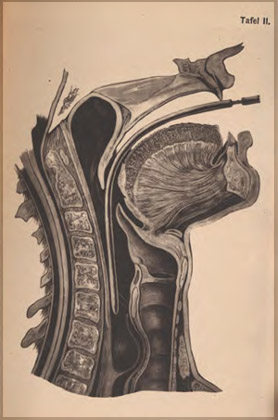 Erklarung der Tafeln.
Tafel I.

Fig. 1. Magenbürste aus dem Anfang des 18. Jahrhunderts mit der von J. C. Socrates empfohlenen Krümmung (nach Zeichnungen von Heister und Socrates).

Fig. 2. Oesophagus-Divertikelsonde.
• a feststehender Draht mit Ring für den Daumen des Operateurs.
• b beweglicher Draht mit Krücke für Zeige- und Mittelfinger des Operateurs.
• c solides 1 1/2 cm. langes Spitzenstück, durch Charniere mit den beiden Drähten verbunden, durch Aufziehen (punctirt) von b im Winkel stellbar.
• c 1 Winkelstellung der Sondenspitze.

Fig. 3. unterstes Stück der Divertikelsonde in natülicher Grösse (aŚc wie bei Fig. 2).

Tafel II

stellt die Lagerungsverhältnisse der Sonde über dem Eingang in das Divertikel dar

• 1) bei Geradestellung des Mandrins, wobei die Sonde in das Lumen des Divertikels vorwärtsstrebt.
• 2) bei winkliger Stellung des Mandrins (punctirt) wodurch die Sonde dem nach vorne verschobenen Lumen des Oesophagus sich zukehrt.

1 Ewald, Carl Anton & Manges, Morris The Diseases of the stomach, D. Appleton and Co., 1902 ; page 1.
2 Ibid, page 5.
---

©All rights reserved.