An explanation of the movements of the iris.
---
Lee, Robert James, -1883.
London : Richard Bentley, 1867.

Description : [ii] p., [1]-15 p. [3 l.] pl. ; ill.: 3 phots. ; 22 cm.

Photographs : 3 mounted albumens of anatomical drawings.

Photographer : Samuel Highley (1825-1900).

Subject : Ciliary body — Nerves.

Notes :


Author caption: Robert James Lee, M.B. Cantab. M.R.C.P.
Son of Robert Lee (1793-1877).
Index Medicus: na.
---
In the present communication I shall attend more particularly to the nervous system of the ciliary muscle and iris of the bird–as the photographs which have been made by Mr. Highley to illustrate the subject afford great facility in understanding the arrangement of the structures. — page 13.
• • •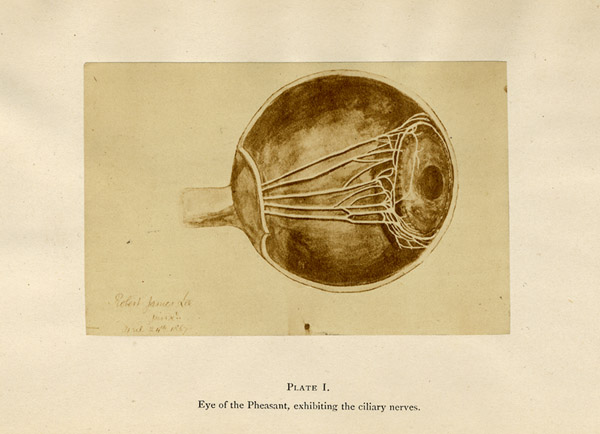 The three albumens made by Highley reproduce the author's drawings. Lee was following the path of his father, Dr. Robert Lee, who proved the existence of ganglia and a nerve plexus supplying the uterus. The elder Lee should have received the Royal Society Medal for his discovery, but a corrupted award committee gave it to Thomas Snow Beck (1814-1877) instead.
---

©All rights reserved.