Efectos fisiológicos del baño de aire comprimido entre una y dos atmosferas.
---
Larguia, Facundo T.
Buenos Aires : M. Biedma, 1879.

Description : [1]-54 p., [2 l.] pl., [1] l., ; ill.: 2 phots. ; 24 cm.

Photographs : 2 albumens mounted on separate leaves.

Subject : Respiratory system — Therapeutics ; Hyperbaric chambers.

Notes :


Author caption: FACUNDO T. LARGUIA. Ex-practicante de la Administracion de Vacuna. Ex-practicante del Asilo de Huérfanos en la Epidemia de Oftalmia del 77 y 78. Propagador de la Vacuna en el Chaco.
Title page content: Tesis para optar al grado de doctor en medicina por/
Photo notations: Foto. Piedad 714.
Ferrari #24.
Index Medicus: na.
---
Nosotros hemos querido reaccionar contra este indiferentismo, presentandoos en este trabajo obligado, un resúmen de las investigaciones fisiológicas del Baño de aire comprimido y algunas esperiencias que nos son personales. Señalamos los usos terapéuticos á que está destinado y finalmente reproducimos en láminas fotograficas, la Cámara de Jourdanet, del Instituto Médico Hidroterápico del Dr. Lacroze ; hacemos su descripcion y esplicamos su funcionamiento.
• • •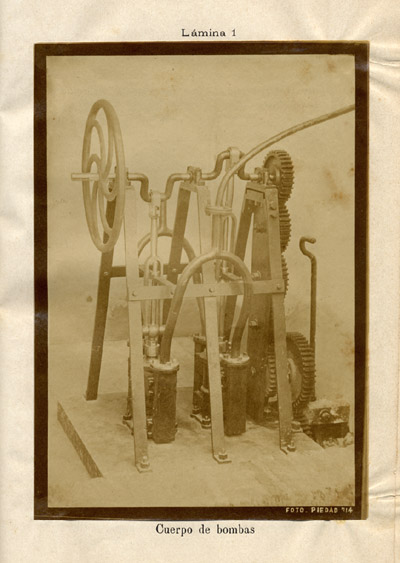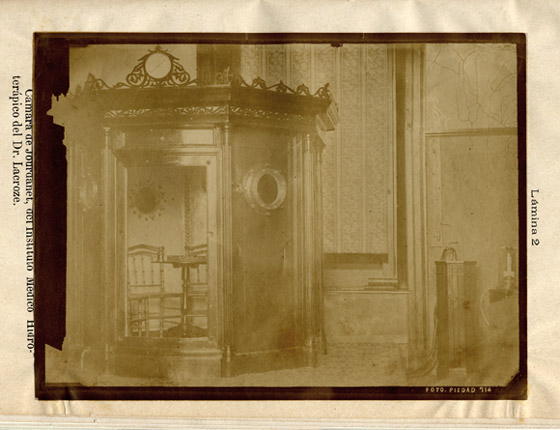 The first photograph displays a two cycle air pump. The second photograph is captioned, Cámara de Jourdanet, and represents a closet-sized pressure chamber installed at the Instituto Médico Hidroterápico in Buenos Aires. Piedad 714 inscribed in both negatives most likely refers to the street address of a photography studio, a few doors up from the Instituto which was located at Piedad 630. Jourdanet is a reference to Dr. Denis Jourdanet (1815-1892) who built the first hyperbaric chamber for medical research in 1870 and funded the studies of his friend Paul Bert (1833-1886) who built a smaller chamber to prove Jourdanet's theory that high-altitude sickness was caused by anoxia (GM 944). Jourdanet did 19 years of groundwork for Bert, studying the physiological effects of low pressure altitudes in Mexico and documenting general anemia in the indigenous population (Influence de la pression de l'air sur la vie de l'homme. Paris, 1875).
---

©All rights reserved.