Cromatoscópia.
---
Lagleyze, Pedro, 1855-1916.
Buenos Aires : Imprenta de la Nacion, 1882.

Description : 113 p., [2] p., [8 l.] pl. ; ill.: 13 phots. ; 27 cm.

Photographs : 13 albumens mounted on 8 printed leaves reproducing drawings of the retina.

Subject : Eye — Pathology ; retinal chromatoscopy.

Notes :


Title page content: Tesis para optar al grado de doctor en medicina.
President, Academia Nacional de Medicina, 1911-1912.
Eponym: Lagleyze operation — operation for entropion.
Eponym: Hospital Municipal Oftalmologico Dr. Pedro Lagleyze.
Scarce. One copy located in UCLA Biomed Special Collections.
Index Medicus: na.
---
Divide su trabajo en tres partes. En la primera se ocupa de la esploracion de la visión cromática, ecsaminando la clasificación y condiciones esenciales de los métodos esploratorios, la visión central y la periférica. En la segunda, trata de la ceguera conjénita de los colores, su historia, clasificación, acromatopsia, seudocromatopsia y discromatopsia. En la tercera parte estudia la ceguera patolójica ó adquirida de los colores, la dependiente de alteraciones ocurridas en el órgano de impresión, en el órgano de trasmisión ó en el órgano de recepción. Es el mejor trabajo presentado en 1882 á la Facultad de Medicina, especialmente por el estudio clínico y el trabajo personal que implica la traslación de los signos objetivos ú oftalmoscópicos para servir de orijinales á las fotografías con que acompaña el testo. — Anuario bibliográfico de la República Arjentina. Buenos Aires, 1883 (vol. iv, p. 283).
• • •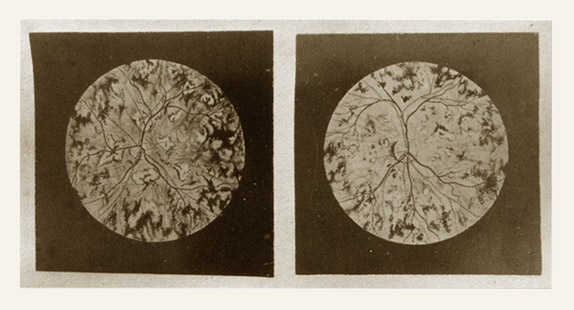 Born to immigrant parents, Dr. Pedro Lagleyze became one of Argentina's world renown physicians, a principal in the establishment of ophthalmology as a separate discipline in that country and founding editor of two excellent journals, the Revista Argentina de Oftalmología Práctica and Revista Argentina de Ciencias Módicas. He was also an accomplished musician and artist and probably executed the drawings of the pathologic retina illustrating this doctoral dissertation.
---

©All rights reserved.