Beitrag zur Lehre von der Mikrokephalie.
---
Klüpfel, Richard, 1848-1917.
Tübingen : Heinrich Laupp, 1871.

Description : [1]-46 p., fl, [1 l.] pl. ; ill.: 1 phot. ; 20.5 cm.

Photograph : mounted albumen of a specimen.

Subject : Skull — Microcephaly; Darwinism.

Notes :


Author caption: vorgelegt von Richard Klüpfel aus Tübingen.
Title content: Inaugural-Dissertation zur Erlangung der Doctorwürde in der Medicin und Chirurgie unter dem Praesidium von Hubert von Luschka.
Established the Hochberg sanatorium in Bad Urach, 1883.
Studied effects of muscle activity on urine pH (IM: 11501401150).
Named: Hubert von Luschka (1820–1875).
Reference: Vogt, Karl Christoph (1867), "Ueber die Mikrocephalen oder Affen Menschen." Archiv für Anthropologie, v. ii, p. 129-284.
Index Medicus: 10902571390.
---
Die absolute Grösse des Prognathismus wird am besten direkt so bestimmt: man misst am Profilbild die Distanz vom Zahnrand bis zu dem Punkt, wo die von der Stirnnasennaht aus gefällte Senkrechte eine der Jochbogenaxe parallele durch den Zahnrand gelegte Linie trifft. Dieses Maass beträgt an unserem photographischen Profil in 1/2 natürlicher Grösse 7,5 Mm., also 15 Mm. für natürliche Grösse. — Page 29.
• • •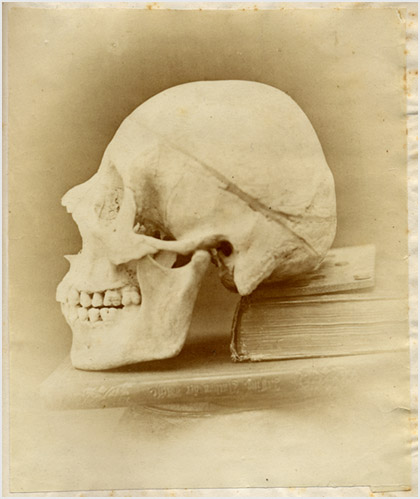 The photograph shows the skull of Magarethe N. (1853-1871) who was a ward of the state at Idioten-Anstalt in Württenberg. Two younger sisters were also microcephalics, but three more siblings were judged normal. Because the three impaired siblings were conceived when the father was drinking heavily, Klüpfel seized the opportunity this case provided to test Vogt's theory of Darwinian atavism as represented by the brains and skulls of microcephalics. Vogt was the first to use the term, "ape man."
---

©All rights reserved.