The mind unveiled, or:
A brief history of twenty-two imbecile children.
---
Kerlin, Isaac Newton, 1834-1893.
Philadelphia : U. Hunt & Son, 1858.

Description : 147 p., [2] leaves of plates ; ill., ports., 20 cm.

Photographs : issued with up to seven mounted salt prints.

Photographers : varia, Gutekunst, Frederick, 1831-1917.

Subject : Pennsylvania Training School for Feeble-Minded Children. Feeble-minded education in Pennsylvania. Exceptional children.

Cited :

Goldschmidt & Naef, Truthful lens ; 97:


The first photographically illustrated medical book published in the United States.
Taureck, Renata, Die Bedeutung der Photographie für die medizinische Abbildung im 19. Jahrhundert (1980) ; p. 196 :
Possibly inspired by Diamond's photographs of the mentally ill (and other photos) which excited considerable attention at the 1855 world exhibition in Paris, this work was similarly furnished with photographs and was published not long afterwards (according to Gernsheim 1961, p. 88).
Burns, Stanley B., M.D., Early Medical Photography in America (1839-1883) ; New York, The Burns Archive, 1983 ; pp. 279-280 :
Several variants of the book exist. One variant contains five different photographs of individual poses of inmates who appear in the group picture of the first edition. Some confusion seems to surround this book since no adequate description of it has been published. ***

***Gernsheim in her 1962 article could not identify the author. The author, Isaac Newton Kerlin, signed it on the last page.
Notes :


Introduction by Joseph Parrish (1818-1891).
Thirty three years later Kerlin published a book of rules and policy guidelines for for the Pennsylvania Training School (Manual of Elwyn; 1863-1891 (Philadelphia, Lippincott, 1891). This book has two photographic illustrations one of which is a frontispiece portrait of Kerlin by Gutekunst.
---
Exceptionally rare book and doubly valuable for the two salt prints executed by Frederick Gutekunst. Both prints are group photos presenting ten of the children who resided at the Pennsylvania Training School for Feeble-minded Children.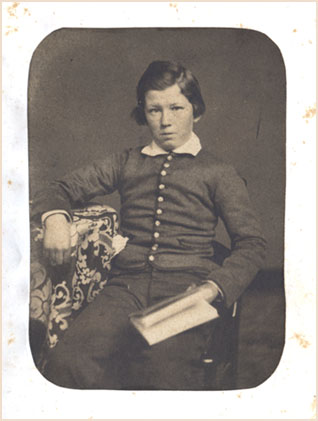 Another of the plates in the book (not by Gutekunst) can be viewed on-line at the Disability History Museum »»
Copies located at Harvard, National Library of Medicine, and Clements Library in Michigan which provides a trove of information for the scholar interested in the history of photography and the photographically illustrated book »»
An extra-illustrated copy was delivered to Dr. Hugh Diamond and the following review is attributed to his pen :
[Mind Unveiled].....deeply interesting record contained in this little work which comes to us from across the Atlantic, and tells the story of what has been done in an Institution established near Philadelphia for the reception and education of idiot children. The individual cases are graphically narrated, the gradual improvement under watchful care and judicious training well described, and the appearances of the children illustrated by photographic portraits. It is true that these are scarcely worthy of the literary contents, being deficient in intensity and wanting in that true arrangement of the subjects as regards light and shade (both physical and mental) so essential where expression is the object of the photographer. But this application of the heliographic art is of such vast importance, and will, in time, become of such great practical value, that we record with pleasure the appearance of this little book as a forerunner of other and more elaborate works in which the art of photography will be employed to illustrate this painfully interesting subject.†
† Diamond, Hugh, Journal of the Photographic Society of London, September 21, 1858, 30.
---

©All rights reserved.