Contribucion al estudio de los sarcomas.
---
Arce Ibañez, Ramon S.
Córdoba : El Interior, 1889.

Description : [1]-88 p., [4 l. pl.] ; ill.: 4 phots. ; 25 cm.

Photographs : 4 albumens mounted on separate leaves.

Subject : Jaw — Sarcoma.

Notes :


Author caption: RAMON S. ARCE IBAÑEZ.
Title page content: Tesis presentada para optar al grado de doctor en medicina y cirujía.
Ferrari #24.
Scarce. One copy located in Amsterdam at the Bibliotheek Universiteit.
Index Medicus: na.
---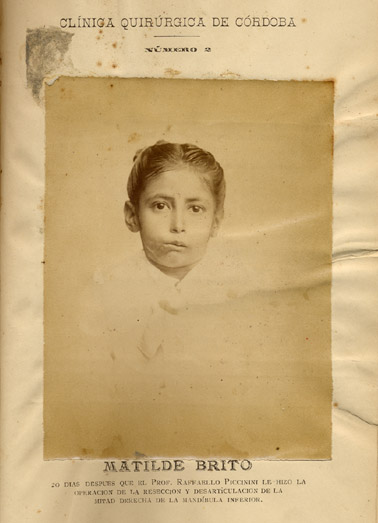 A solid work on sarcomas comprising first a review of the literature followed by a case report and photographs illustrating the surgical removal of an inferior maxillary osteosarcoma in a 7 year-old child. Plates 1 and 2 are before and after portraits of the procedure. Plates 3 and 4 are two perspectives of the specimen.
---

©All rights reserved.