A case of tumour of the spinal cord; removal; recovery.
Received March 8th – Read June 12, 1888.
---
Gowers, Sir William Richard, 1845-1915.
Horsley, Sir Victor Alexander Haden, 1857-1916.
London : Adlard & Son, 1888.

Description : [1]-54 p., [6] l. ; ill.: 2 pl. h.t., 1 l. photo., 5 l. fold. tab. ; 8vo.

Reprint : Medico-Chirurgical Transactions', Vol. LXXI, 1888 ; pp. 377-[430].

German edition : Rückenmarksgeschwulst mit Heilung durch Extirpation. / Berlin: Hirschwald, 1889.

Photograph : autotype.

Subject : Neurosurgery — Laminectomy.

Notes :


Swann Sale 2107, Lot 172; March 8. 2007.
Inscribed by Horsley: To Dr. Bradford with kindest regards VH.
Photo caption: Danielsson & Co., Photo. Print.
German edition illustrated by a lithograph.
Garrison-Morton 4860.
Index Medicus: 11304921560, 20604001380, 21701581120.
---
Horsley was the founder of neurosurgery in England. The above paper records the first successful operation for the removal of an extramedullary tumour of the spinal cord. — G&M.
• • •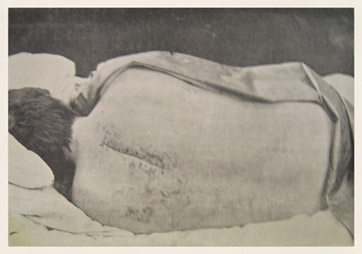 DESCRIPTION OF PLATE III.

A Case of Tumour of the Spinal Cord (W. R. Gowers, M.D., F.R.S., and Victor Horsley, B.S., F.R.S.).
A photograph was taken about July 31st which gives a view of the back of the patient, showing the scar of the operation. The spots around the scar are traces of small pustules, which, however, gave the patient practically no trouble, and which were caused no doubt by the irritation of the large quantity of cerebro-spinal fluid soaking the dressings and dissolving the perchloride of mercury, &c., contained therein.
---

©All rights reserved.