Memoir of Valentine Mott, M. D., LL. D.,
professor of surgery in the University of the city of New York ;
member of the Institute of France.
---
Gross, S(amuel) D(avid)., M. D., LL. D., 1805-1884.
New York : D. Appleton and co. ;

Philadelphia : Lindsay and Blakiston, 1868.

Description : front., [i]-viii p., [1] l., 1-96 p. ; ill., port., 23.7 cm.

Photograph : frontispiece, mounted albumen.

Subject : Medical Biography — Valentine Mott, 1785-1865.

Cited : Cordasco 60-0731.

Notes :

Green buckram, ornamental blind stamping on covers, gold stamped spine.
Frontispiece photo depicts a marble bust of Mott with his signature below.
Sculptor : John Quincy Adams Ward, 1830-1910.
Photo size : 69 x 113 mm.
Previous owner's bookplate : R(ichard) H(andfield) Titherington [1861-1935].
Mott was a pupil of Astley Cooper and a pioneer in vascular surgery.
---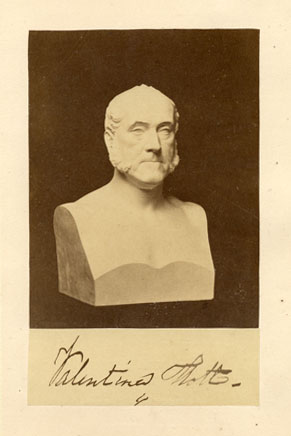 ---

©All rights reserved.