Du purpura hémorragique primitif ou purpura infectieux primitif.
---
Martin de Gimard, Jules-Louis-Alexandre, (1858-?).
Paris : G. Steinheil, 1888.

Description : [1]-109 p., [1 p.], [3 l.] pl. ; ill.: 2 photo, 1 lith. ; 24.7 cm.

Photograph : 2 leaves with mounted photoglypties printed by the firm, Lemercier.

Photographer : Bruneau (possibly Georges Bruneau).

Subject : Skin — Purpura gangrenosa; Purpura fulminans.

Notes :


In part: Gimard de Martin (1887), Observations de deux cas de purpura hémorrhagique suivis de gangrène. Bull. Soc. clin. de Par., vol xi.
Also: France méd., Par., vol ii.
Author caption: Par Le Docteur Jules MARTIN DE GIMARD, Ancien interne en Médecine des Hôpitaux de Paris. Membre de la Société anatomique.
Includes bibliographical references.
Photo caption: Planche II. Malade de l'observation X. (Purpura suivi de gangrène). Photographie faite trois jours après son entrée à l'hôpital.
Photo caption: Planche III. Malade de l'observation X. (Purpura suivi de gangrène). Photographie faite après l'élimination des eschares.
Inscribed: A monsieur le professor [Louis-Antoine] Ranvier [1835-1922] Hommage respectueuse et reconnaisant. Martin de Gimard.
Index Medicus: 21001681020.
---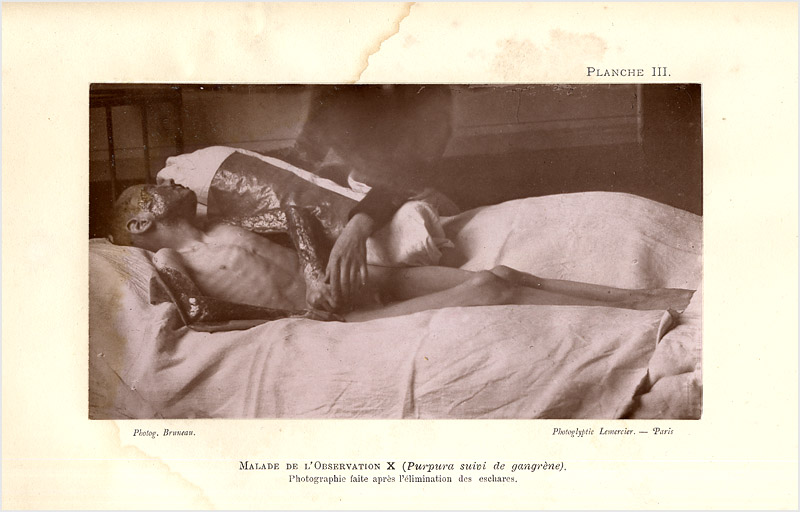 The first systematic study of purpura, Martin de Gimard describes thirteen cases that occurred in the historic wards of Hôpital des Enfants-Malades on the Rue de Sévres in Paris. Two of the gangrenous purpura cases were first published under separate title in journals (vide supra). Shown here is case number X—an 8 year-old boy named Cyril who survived a sudden onset of the lesions with few symptoms, probably arising from meningitis. Gimard and his colleagues were familiar with purpura in association with many diseases including scurvy but rarely did they see the lesions become necrotic. Thinking that purpura might be a disease sui generis, Gimard succeeded in isolating a gram-positive coccus from the blood of the patient that he lost and using it to innoculate rabbits with resulting lesions.
---

©All rights reserved.