History of a successful case of amputation at the hip-joint,
(the limb 48 inches in circumference, 99 pounds weight).
---
Gamgee, Joseph Sampson, 1828-1886.
London: John Churchill, 1865.

xiii, [3], 30 p., [4] leaves of plates.

Illustrated: four mounted albumens.

Photographers: Napoleon Sarony and Pierre-Petit.

29 cm.

Subject: surgery, amputation.
Cited:
Goldschmidt & Naef, The Truthful Lens item 67 illustrated plate 82.
---
Patient Joseph Bramwell, a 37 year old coal miner and father of seven children, was admitted to Queen's Hospital in Birmingham on September 3, 1862. By this date the enormity in his leg had reached 46.5 inches in circumference, weighed over 90 pounds, and required a special conveyance of pulleys and slings which Dr. Gamgee contrived for the operation. A wood-cut line drawing in the text illustrates the device and also shows an external clamp applied to the region of the abdominal aorta. This tourniquet was used by Professor Syme for treating an aneurism of the iliac and it was designed by and procured from Dr. Lister.
After dissection, Gamgee shipped the tumor to Professor Houel, curator of the Musée Dupuytren in Paris, for sectioning and examination. There it was photographed by Pierre-Petit and vested in the museum's collection, Diseases of the Osseous System catalogue number 467c. Pierre-Petit published (ca. 1877) a photographic album of 85 specimens in the museum collection and it would be worth ascertaining whether or not he included Bramwell's tumor.
Crediting the physician who paid for the photography session and omitting authorship due to Sarony, Dr. Gamgee writes:
At Midsummer, 1861, the patient was seen by Mr. Herbert Major Morgan of Lichfield, who has kindly lent me an excellent photograph which he took of the whole figure. In it I perceive that emaciation, though considerable, is much less so than when the patient came under my care; and the limb, while already immense, was far from having attained its subsequent proportions.
I have no doubt it is the same image (plate1) of Joseph Bramwell reclining on a blanketed examination table. This photograph confirms that Napoleon Sarony was already working in Birmingham England in 1861 and confutes those historical accounts which date his arrival in the year 1862 or later, and which place him before 1862 in the seaside town of Scarborough working for his brother, the prospering photographer of cartes-de-visite, Oliver Sarony. Indeed, this photograph would not have been his first commission for the firm R.W.Thrupp which he partnered upon his arrival, probably in 1860.
The post-op photo was taken five months after the operation. Both images are early examples of Sarony's use of romantic props and dramatic poses.
The following thumbnail images are linked to their enlargements: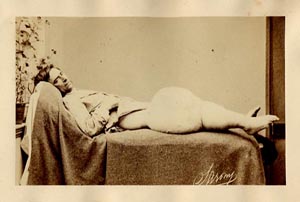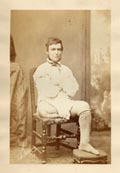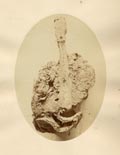 Included in its roster of 177 patron subscribers appear the distinguished names of James Paget, William Jenner (two copies), and Thomas Spencer Wells. Considering the number of subscribers, only a few of whom paid for two copies, the edition run of this slim quarto volume on amputation could not have been much more than 250-300 copies. Curiously, it is not included in Gernsheim's bibliography of British photographic incunabula.
Joseph Sampson Gamgee is well remembered eponymously for his invention of a surgical dressing still in use today:
"The use of cotton wool was first suggested to him by reading Mathias Mayor's La chirurgie simplifiée, Brussels, 1842; but its improved manufacture in an antiseptic condition was largely due to his [Gamgee's] suggestions."
----Gamgee. On the Treatment of Wounds and Fractures: clinical lectures. Second edition. London: J. & A. Churchill, 1883.
---

©All rights reserved.