An inquiry into the physiognomy of phthisis by the method of "composite portraiture."
---
Galton, Francis, Sir, 1822-1911;
Mahomed, Frederick Henry Horatio Akbar, 1849-1884.
Journal : Guy's Hospital Reports, vol. xxv.

London : J. & A. Churchill, 1881.

Description : 475-[495] p., [1 l.], [4] l. pl. ; illus.: 1 wood., 4 photo., tab. ; 22 cm.

Photograph : 4 heliotypes of photo-composites.

Photographer : Francis Galton & Alexander Mackie.

Subject : Phthisis — Physiognomy.

Notes :
Author caption: "By Francis Galton, F.R.S., and F. A. Mahomed, M.D.
In a footnote, Galton credits Dr. Mahomed as the principle author.
Eponym: "Mahomed Sphygmograph" — the first rudimentary sphygmomanometer, used by Mahomed to identify the significance of high blood pressure.
Eponym: "Mackie lines" halo or border artifacts that can occur during solarization of emulsion.
Index Medicus: 11101651420.
---
With the help of Dr. Mahomed and the permission of the authorities of Guy's Hospital, I took many photographs of consumptive patients and made composites of them, which are published in the Guy's Hospital Reports, vol. xxv. They show two contrasted types, the one fine and attenuated, the other coarse and blunted. Dr. Mahomed was a very promising physician, on the eve of becoming well known, when he caught a fever of the same description, I am told, as that on which he had become an authority, and died of it in his newly purchased house. — Galton, Memories of my life ; page 262 »»
• • •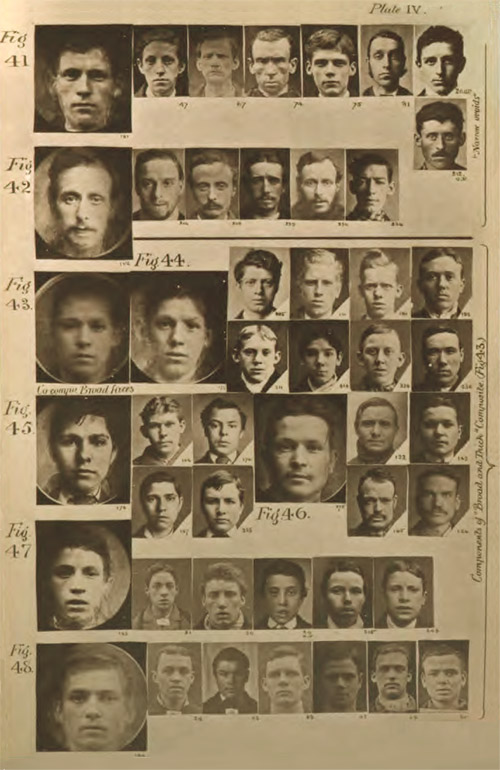 Galton employed the London photographer Alexander Mackie to prepare the original portraits for this study. Mackie was perviously known to Galton, having provided him with portraits of the inmate population at Pentonville prison for his first experiments with composite photography, that were then published in the journal, Nature (1878).
For their paper on the diathesis of consumption, the team of Galton, Mackie and Mahomed photographed 442 patients occupying the tubercular wards of three hospitals in the London vicinity. Another 200 patients not suffering from a wasting or enteric illness were photographed for the control group. In a footnote, Galton names his young associate, Doctor Mahomed of Guy's Hospital, as the principle author of this study. However, Mahomed's name will always be honored and remembered for the heroic devotion he gave to his patients and his work, a devotion which he paid out with his life, finally succumbing to phthisis in 1884.
---

©All rights reserved.