Inquiries into human faculty and its development.
---
Galton, Francis, Sir, 1822-1911.
London : Macmillan and Co. ;
New York : Macmillan & Co., 1883.

Description : [i]-xii, [1 l.], 387 p. [4 pl.] ; illus., tables., 1 photo. ; 23 cm.

Photograph : frontispiece, mounted heliotype.

Photographer : Sir Francis Galton, author.

Subject : Physiological Psychology — Eugenics.

Notes :
Norman Library 866.
Norman copy sold at Christie's on Oct. 29, 1998 ; Freud-8976, lot 1089.
GM 230 ; Osler 1597 ; Waller 5403 ; Cushing G83.
Heirs of Hippocrates, 1903.
Index Medicus: 11107501400, 20600391300.
---
Galton, cousin of Charles Darwin, founded the science of Eugenics. In his important Inquiries, he showed mathematically "the results of his experiments on the relations between the powers of visual imagery and of abstract thought, of the associations between the elements of different sense departments, of the correlation of mental traits, the associations of words, and the times taken in making the associations" (T. K. Penniman). The word 'eugenics' first appears in the above work — Garrison & Morton.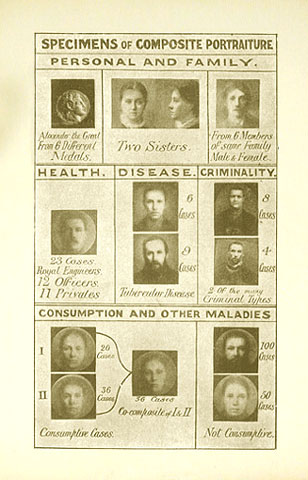 Galton devised a method of composite photography by first aligning single portraits of equal size into a book format and then reshooting each page onto one negative. He theorized that individuating features would filter out and a generalized phenotype would emerge.
---

©All rights reserved.