A case of modified laryngectomy for epithelioma of the larynx; recovery.
---
Fowler, George Ryerson, 1848-1906.
Serial : American Journal of the Medical Sciences ; vol. xcviii.

Philadelphia : Lea & Brothers Company, 1889.

Description : 366-371 p. ; ill.: 2 photos. in-text, 1 engr. ; 24 cm.

Photographs : 2 half-tone figures in-text.

Photographer : Thomas Rushmore French, 1849-1929.

Subject : Larynx — Prosthetics.

Notes :


Author caption: BY GEORGE R. FOWLER, M.D., SURGEON TO THE M. E. HOSPITAL, AND ST. MARY'S HOSPITAL, BROOKLYN, N. Y.
Off-print also published.
Founder and first president of the Brooklyn Red Cross, 1884.
Chief surgeon, New York Methodist Hospital, 1887-.
Honored with a chair of surgery at the New York Polyclinic, 1890.
Accomplished the first complete thoracoplasty, in 1893.
Eponym: Fowler's position.
Index Medicus: 20902431260, 20510071180 (off-print).
---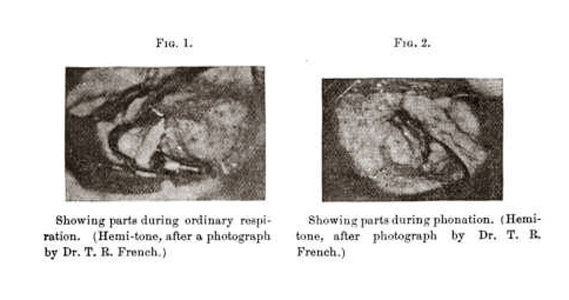 Dr. Fowler consulted with another Brooklyn physician, Dr. Thomas Rushmore French, a specialist in diseases of the ear, nose, throat. The two in-text halftones of the larynx were supplied by Dr. French, who was an accomplished photographer and the first to capture serviceable images of the larynx (GM 3290-1).
---

©All rights reserved.