Fatty tumor with bone-like degeneration — removal.
(Illustrated by a photograph).
---
Drake, Joseph Morley, 1828-1886.
Journal : Canada Medical Journal and Monthly Record of Medical and Surgical Science. Vol. V.

Montreal : Dawson Brothers, 1869.
London, Paris, New York : Balliere Brothers.

Description : [1 l.] pl., 437-438 p., [22] pl. ; ill.: 1 photo. ; 21 cm.

Photograph : unverified, clinical view of the subject.

Subject : Lipomatous Tumors — Osseous metaplasia.

Notes :


Author caption: "Joseph M. Drake, M.D., Professor of Clinical Medicine University of McGill College."
Legacy: "Joseph Morley Drake Chair of Physiology" at McGill.
Photo caption: "Dr. Drake's Case of Fatty Tumor."
Index Medicus: 11408741540.
---
Joseph M. Drake, even as a student, was a learned man, and more, he was a wise man. He was the nearest of all men with whom I have been acquainted to Shakespeare's marvelous creation – the melancholy Dane – Hamlet. He was like that most lovable prince, learned, wise, critical, deeply religious, pre-eminently conscientious, and like him, too, he lacked determination, self-assertion and self-confidence; but no truer friend or man ever lived on this planet. — R. M. Bucke (1892), The value of the study of medecine. Montreal: Gazette Printing Co., (The Montreal Medical Journal, v. xx., p. 324)
• • •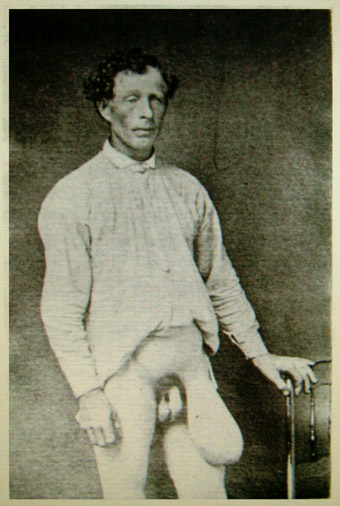 Dr. Drake reports finding osseous metaplasia, that the structure of the tumor had "the external appearance of bone, showing that the centre of the tumor had undergone osseous degeneration, an event of exceedingly rare occurrence."
---

©All rights reserved.