Contributions to the study of the radical cure of goitre.
---
Devecchi, Paolo, 1847-1931.
San Francisco : Jos. Winterburn & Co., 1881.

Description : [1 l.] pl., [1]-11 p. ; ill.: 2 phot. ; 23 cm.

Photographs : two albumen portraits, before and after surgery.

Subject : Thyroid — Goiter, thyroidectomy.

Notes :


Author caption: By Paulo Devecchi, M.D., Of Turin, Italy.
Author info vide »».
Italian title: Contribuzione allo studio della cura radicale del gozzo. Torino, Indipendente, 1881.
Offprint from The Western Lancet. San Fran., 1881, vol. x, 241-250.
Journal article illustrated with drawings of the photographs.
Includes bibliographical content.
Reference: Fiorani, Giovanni (1881), L'esportazione del gozzo mediante il laccio elastico. Milano, Typografia Agnelli.
Index Medicus: 10504841630 (Italian edition).
---
The patient, as may be seen from the photographs taken before and after the operation of the case, was a young man of about twenty-four years of age by the name of Giuseppe Balbi, having left Ronco-Scrivia, a small village situated in the mountains of Piedmont, Italy, near Genoa, where goitrous tumors are not rare. — Page 8.
• • •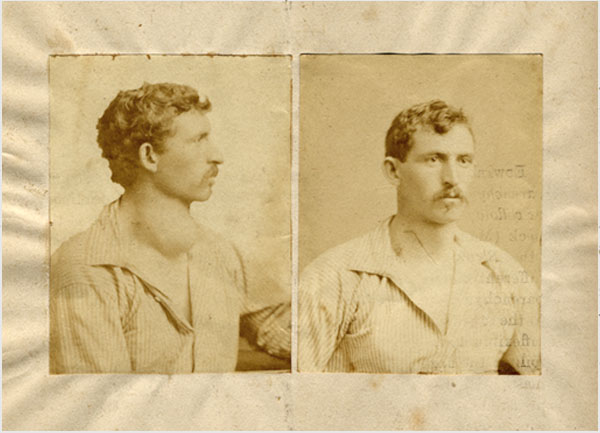 In a room packed with friends and relatives of the patient, Devecchi followed Fiorani's unusual procedure for extirpating a goiter. He first peeled away aponeurotic tissue as though operating for hernia. All the stitches to close the wound were put in place and the tumor then brought forward out of the wound and tied off with an elastic ligature around its peduncle. If everything had gone well, the stitches would be closed and the tumor would mortify and drop off in a matter of days. Unfortunately, the patient's respiration was compromised after Devecchi tied the ligature and he was forced to complete a thyroidectomy. This was the first extirpation of goiter from a male subject in California.
---

©All rights reserved.