The expression of the emotions in man and animals.
(presentation copy)
---
Darwin, Charles Robert, 1809-1882.
London : John Murray ;
New York : D. Appleton & Co., 1872.

Description : v, 374 pp., [4] adv., [7] l. ; ill, 7 pl. of photo., 21 fig. ; .

Photographs : 7 leaves of heliotypes, (3 folding).

Photographer : Oscar Gustave Rejlander (1817-1875) ; Adrien Tournachon.

Subject : Psychology — Physiognomy of Emotions.

Notes :
Inscribed by Darwin to his friend George Warde Norman (1793-1882).
Bookplate of G. W. Norman.
Provenance of Haskell Norman (Norman 600).
Sold at Christies on Oct. 29, 1998 ; Freud-8976, lot 1023.
GM 4975 ; Osler 1574 ; Waller 2298 ; Freeman 1151.
Index Medicus: 10305971270, 10305981020, 10402161440, 10805631070, 21701331040.
---
The following passage in which Darwin acknowledges his debt to Duchenne, is excerpted from the introduction :
In 1862 Dr. Duchenne published two editions, in folio and octavo, of his 'Mecanisme de la Physionomie Humaine,' in which he analyses by means of electricity, and illustrates by magnificent photographs, the movements of the facial muscles. He has generously permitted me to copy as many of his photographs as I desired. His works have been spoken lightly of, or quite passed over, by some of his countrymen. It is possible that Dr. Duchenne may have exaggerated the importance of the contraction of single muscles in giving expression; for, owing to the intimate manner in which the muscles are connected, as may be seen in Henle's anatomical drawings[7] — the best I believe ever published it is difficult to believe in their separate action. Nevertheless, it is manifest that Dr. Duchenne clearly apprehended this and other sources of error, and as it is known that he was eminently successful in elucidating the physiology of the muscles of the hand by the aid of electricity, it is probable that he is generally in the right about the muscles of the face. In my opinion, Dr. Duchenne has greatly advanced the subject by his treatment of it. No one has more carefully studied the contraction of each separate muscle, and the consequent furrows produced on the skin. He has also, and this is a very important service, shown which muscles are least under the separate control of the will. He enters very little into theoretical considerations, and seldom attempts to explain why certain muscles and not others contract under the influence of certain emotions.

7) Henle, Jacob, "Handbuch der Systematischen Anatomie des Menschen." Band I., Dritte Abtheilung ; 1858.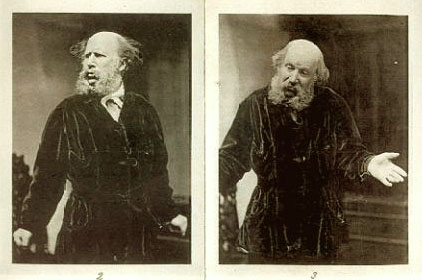 ---

©All rights reserved.