Historia de una afeccion anestésica contracturante, amputante y dactiliana; Quigila (Brasil), Gafeira (Portugal).
---
Coni, Emilio Ramón, 1854-1928.
Journal : Revista médico-quirúrgica. Vol. xiv.

Buenos Aires : Pablo E. Coni, 1877-1878.

Description : 177-188 p., [1 l.] pl., 294-313 p. ; ill.: 1 photo. ; 27 cm.

Photographs : 1 albumen.

Subject : Extremities — Autoamputation ; ddx.

Notes :


Author caption: POR EMILIO R. CONI Y LEIDA POR EL DR. JUAN A. GOLFARINI.
Continued under the same title in vol. xv (p. 181-; 199-; 224-).
Offprint also issued (1877).
Cited: Berra, J. Z. (1878), La controversia sobre la gafeira. (Contestacion al Sr. Coni). Buenos Aires journal: Asoc. círc. méd. Argentino, p. 506-516.
Ferrari #10.
Index Medicus: 10502771180, 10800451090.
---
En 1877 Coni completó sus estudios médicos y obtuvo del gobierno de la provincia una beca para perfeccionarse en Europa, la cual fue suprimida al suceder Carlos Tejedor a Carlos Casares en el gobierno de la Provincia. Como estudiante del último año, Coni realizó, en julio de 1877, una comunicación sobre "una afección anestésica contracturante, amputante y dactiliana", descripción clínica de un enfermo paraguayo que padecía una lepra lepromatosa mutilante. Para preparar su tesis de doctorado sobre la lepra anestésica, viajó a Corrientes y a Paraguay y consiguió reunir 23 casos, seis de ellos con fotografías (piénsese que estamos refiriéndonos a 1877/78). Marcial Quiroga (35) consideró que esa monografía fue un verdadero trabajo de investigación, y es la mejor de las cinco publicadas en Argentina al final del siglo (XIX). Naturalmente la publicación, en ese año de 1878, fue obra de la Imprenta Pablo E. Coni. — Presidencia: 1891-1893. Emilio R. Condi. Internet content from Associación Médica Argentina, accessed 11/11/2008 »».
• • •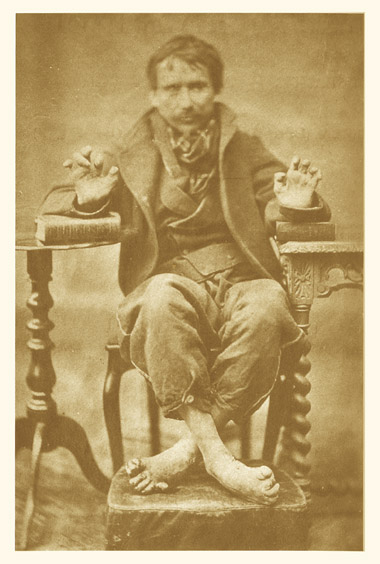 The title words quigila and gafeira are archaic terms used by early nineteenth century writers for a confusion of tropical diseases that manifest with spontaneous loss of fingers and toes, ranging from ainhum to leprosy. In this paper Coni effectively dispenses with these terms and delves into the differential diagnosis for autoamputation of the extremities in leprosy. The photograph is of a 46 year-old Paraguayan laborer suffering from trophoneurotic leprosy.
---

©All rights reserved.