Casos Notables de Elefantiasis,
durante su permanencia en el Brasil.
---
Christiano de Freitas Henriquez Junior, José, 1830-1902.
Rio de Janeiro : sn, sp ; ca. 1866.

Description : portfolio ; 10 plates.

Photographs : 10 mounted albumens.

Photographer : Christiano Junior.

Subject : Elephantiasis.

Notes :


Archive : Fundação Biblioteca Nacional.
Presented in 1877 at the Buenos Aires Industrial Club inaugural exhibition.
Number of plates varies.
---
Ten large mounted photographs of men suffering from advanced stages of elephantiasis. No text except for the hand written title.
Two medical portfolios by the 19th century photographer Christiano recently came available to collectors of vintage medical photography. The first album sold in 1998 at an online auction site and the second was sold in 2001 at a New York auction house. Art and Medicine had the good fortune to appraise this Elephantiasis album and to confirm the date of the images which would make them the first photographs taken of this tropical disease.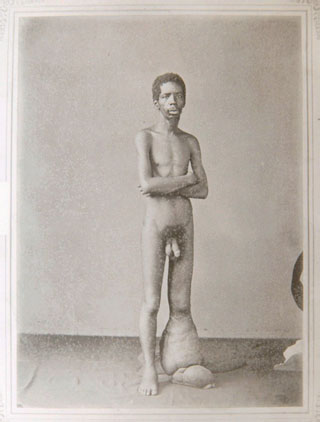 Courtesy of Fundação Biblioteca Nacional.
---

©All rights reserved.