On excision of the elbow-joint.
---
Cheever, David Williams, 1831-1915.
Journal : Medical and surgical reports of the City Hospital, Boston ; series 2.

Boston : Rockwell & Churchill, 1877.

Description : 143-148 p., [6 l. pl.] ; illus., 6 photos. ; 24 cm.

Photographs : 6 heliotype leaves.

Subject : Elbow — Amputation.

Notes :


Author caption: By David W. Cheever.
Vide intra: Cheever (1870), On excisions of joints »»
Photo captions: Heliotype Printing Co., 220 Dev. St., Boston
— CASE I. BONES REMOVED BY EXCISION »».
— CASE I. AFTER EXCISION.
»».
— CASE I. NEW JOINT, radial side. Seven years after excision.
»».
— CASE I. NEW JOINT, ulnar side. Seven years after excision.
— CASE II. THE ARM AT REST. ; Three years after excision.
— CASE II. THE ARM IN ACTION. ; Three years after excision.
Index Medicus: 10404101880.
---
Uninterrupted recovery took place, and the arm became a very useful one. He could flex the fore-arm to an acute angle with the arm; extend perfectly; rotate and supinate about one-half the normal amount. He could carry a pail of water, or a hod of coal, with the arm extended down by the side ; he could dress himself, and use his knife and fork; he was employed several years in a large retail house doing up bundles. At arm's length he could hold out an average-sized octavo book. The photograph of him, in this position, was taken about two years after the operation. For four years longer he improved in the use and strength of the arm. A great spreading of the lower end of the humerus took place ; and strong buttresses of new bone were developed for the attachment of the flexor and extensor muscles.—Pages 143-144.
• • •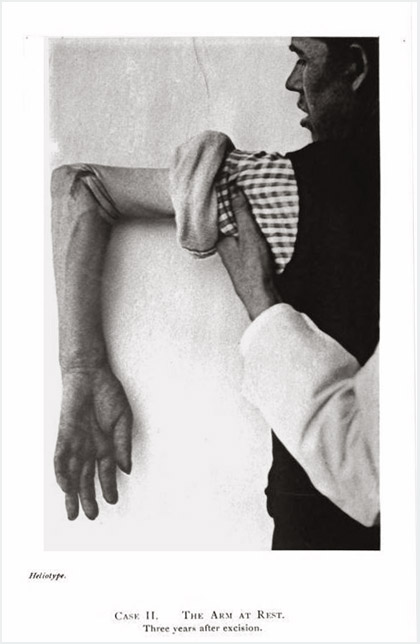 Six full-page photographs illustrate two cases of excision at the elbow, the first four plates representing a boy 14 years in age and the last two plates representing a 19 year-old man whose elbow was crushed by a roofer's iron cauldron. It is the first case which is the more appealing because of the specimens shown. These include the carious bony structures which were removed by Dr. Cheever and two views of the subject's restored elbow, removed by autopsy seven years later.
---

©All rights reserved.