Opium and the Opium-Appetite:
With Notices of Alcoholic Beverages, Cannabis Indica, Tobacco and Coca And Tea and Coffee. In Their Hygienic Aspects And Pathologic Relations.
---
Calkins, Alonzo, M.D.
Philadelphia : J. B. Lippincott & Co., 1871 ; deluxe edition (1870).

Second edition : New York ; Arno Press, 1981.

Description : [2] pl., [l]-399 p., 6 pp., [1] ; ill., 2 leaves of plates, adv., 18.8 cm.

Photographs : two mounted albumens, frontispieces, portraits of Calkins.

Photographer : William Kurtz, 1833-1904.

Cited : Cordasco, 70-0545.
---
One frontispiece to the deluxe edition is a finely executed portrait of Calkins in profile, with his index finger holding his place on the page of a botanical atlas which is turned to a plate of the poppy plant. The photograph is stamped W. Kurtz in red ink in the lower left corner. The second frontispiece shows Calkins examining the poppy plant in the field.
Definitive monograph by Calkins on opium addiction drawn from over 230 cases, including approximately 175 American, British, European and other physicians, 35 apothecaries, plus correspondence with two missionary doctors in China. The deluxe edition was bound in two types of cloth with red fore-edging and bound with portrait frontispieces. Recently a second extra-illustrated copy, possibly Calkins own copy, became available to book collectors with a third unbound cdv portrait of Captain Lahrbush whose addiction is discussed in the text. Tipped on the back of the cdv is an inscription, probably in the author's hand, and the words, "Fred Lahrbush late Captain H. B. M. Service. Born in London England March 9th 1766."
There is an early photograph of Walt Whitman in the Oscar Lion Collection of the New York Public Library which is attributed to Hunt but may actually be the work of Kurtz who was also a painter with studios in New York City and Vienna.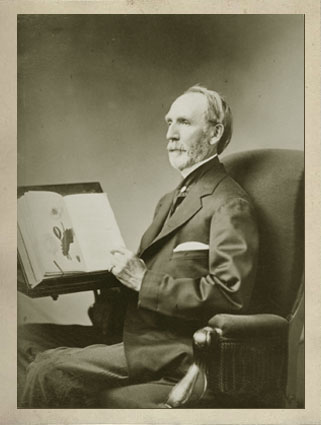 ---

©All rights reserved.