Cases of osteoclasis.
---
Cabot, Arthur Tracy, 1852-1912.
Journal : The Boston Medical and Surgical Journal ; vol. 101.

Boston : Houghton, Osgood and Company, 1879.

Description : [1 l.] pl., 217-222 p. ; ill.: 2 phot. figs. ; 24.5 cm.

Photographs : 2 heliotypes on printed leaf.

Subject : Long bones — Surgical instruments ; Osteoclasts.

Notes :


Author caption: By A. T. Cabot, A. M., M. D.
M.D., Harvard, 1872.
Masters, Harvard, 1878.
Instructor, Harvard Medical School, 1878-1880.
First clinical instructor, genito-urinary surgery, Harvard, 1880.
Instructor, genito-urinary surgery, Harvard, 1885-1896.
President, American Association of Genito-Urinary Surgeons, 1892.
President, Massachusetts Medical Society, 1904-06.
Chairman, Massachusetts State Hospital for Consumptives, 1907.
Index Medicus: 11002091310.
---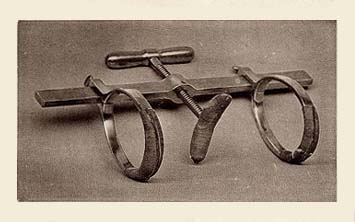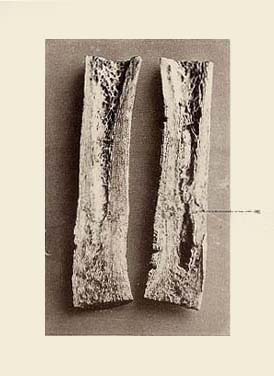 Figure 1 is a photograph of an osteoclast that Dr. Cabot fabricated, a copy from memory of an instrument invented by Bologna surgeon Dr. Francesco Rizzoli (1809-80) and used for the treatment of bow leg, the first time the long bones were intentionally broken for a medical procedure. Cabot was on sabbatical in Vienna (1876) when he observed Rizzoli's procedure. His first try of the device was on the tibia of a four year old girl. She responded well to the surgery, but died three months later from a general miliary tuberculosis. Figure 2 represents the longitudinal division of the child's tibia.
---

©All rights reserved.