Double Congenital Displacement of the Hip;
Description of a Case with Treatment Resulting in a Cure.
(With Plates)
---
Brown, Buckminster, M.D., Consulting Surgeon of the House of the Good Samaritan, etc.
The Boston Medical and Surgical Journal.

Shattuck, George B., M.D., ed. & Post, Abner, M.D., asst. ed.

Boston: Cupples Upham and Company, Old Corner Bookstore, 1885.

volume CXII., no. 23., pp. 541-546, ill.

8 photographic plates (phototypes) on 2 pp. of heavy card stock.

Subject: Orthopedics.

28cm.
---
The name of the photographer, Baldwin Coolidge, is engraved in tiny italic pearl font next to plate 8.
All 8 images are of one child, a girl four years old when she was entrusted to the ministrations of Dr. Brown in April 1882. Plates 1 and 2 are two views of the child's lordosis and in plates 3 and 4 she is pinioned in the orthopedic bed Dr. Brown devised for her treatment. Plates 6 to 8 were taken of the child only three months later and show the deformity almost completely healed.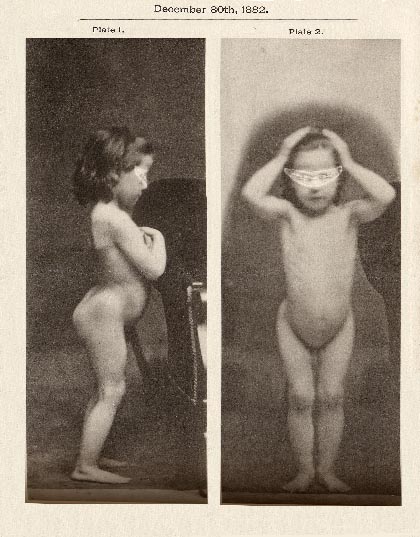 ---

©All rights reserved.