Double congenital displacement of the hip; description of a case with treatment resulting in cure.
---
Brown, Buckminster, 1819-1891.
Boston : Cupples Upham and Company, 1885.

Journal : The Boston Medical and Surgical Journal, volume cxii.

Description : [4 l.] pl., 541-546 p. ; ill.: 8 phots. ; 28cm.

Photographs : 8 collotypes on 4 cards. Views of bilateral hip dysplasia in the pediatric subject taken before, during, and after treatment.

Photographer : Baldwin Coolidge, 1845-1928.

Subject : Hip-joint — Bilateral congenital malformation ; orthopedic treatment.

Notes :

Author caption: By Buckminster Brown, M. D., Consulting Surgeon of the House of the Good Samaritan; Member of the Boston Society for Medical Improvement, etc. etc.
Offprint also published, now scarce.
Provenance of the offprint: Hugh Talbot Patrick (1860-1939).
Includes a review of the literature.
Photographer's caption: Baldwin Coolidge, Phot.
Printer's caption: Lewis Co., Phototype.
Photo captions: Plate 1-[8] (several w/dates).
Cordasco: 80-0677.
Index Medicus: 20701381600, 20208491180 (offprint).
---
Six of the eight images are pictures of a girl who was four-years-old when she was first photographed and entrusted to the sedulous ministrations of Dr. Brown. Plates 1 and 2, however, are front and side views of a separate patient, one whose age and deformity exactly matched that of the subject's, before treatment (vide: footnote, p. 543). Plates 3 and 4 show the subject in traction, pinioned to the weights and pulleys of an orthopedic bed, contrived for her treatment. After a year of traction, the child transitioned to independent locomotion with the aid of a specialized four-wheel cart, observed in Plate 5. Plates 6, 7 and 8 were taken about two years later and show the child's lordosis completely cured. The faces of the two young patients are either obliterated in the negative or eerily masked by skillful retouching. The bibliographical review includes five cases of hip dysplasia treated by Jules Guérin (1801-1886) at the Hôpital des Enfants Malades in Paris, whose wards Brown had visited in the winter months of 1845 to 1846.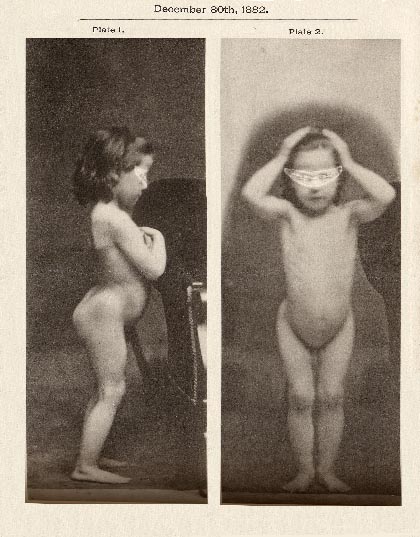 ---

©All rights reserved.