Encapsulated round fibroid tumor of the uterus.
---
Broomall, Anna Elizabeth, 1847-1931.
Journal : American Journal of Obstetrics ; vol. xi.

New York : William Wood, 1878.

Description : 617-619 p., [1 l.] pl. ; ill., 1 photo. ; 23 cm.

Photographs : 1 heliograph of a specimen.

Photographer : J. Carbutt.

Subject : Uterus — Fibroid tumors.

Cited : Rutkow GYp130 ; Burns, pg. 1246.

Notes :
Author caption: "..exhibited for Dr. Anna A. Broomall" (in-text).
Read before the Philadelphia Obstetrical Society, April 4, 1878.
Report presented to the Society by Dr. Albert Holmes Smith (1835-1886) on behalf of Dr. Broomall.
1871 graduate of Women's Medical College of Philadelphia.
Appointed Physician in Charge of the Women's Hospital of Philadelphia, 1878.
Index Medicus: 11503681760.
---
Broomall's specimen of an encapsulated round fibroid is shown in this early heliotype, taken by John Corbett [sic] of Philadelphia. It was one of the first mechanically reproduced photographs published in an American periodical. — Rutkow GYp130, and fig. 33.
• • •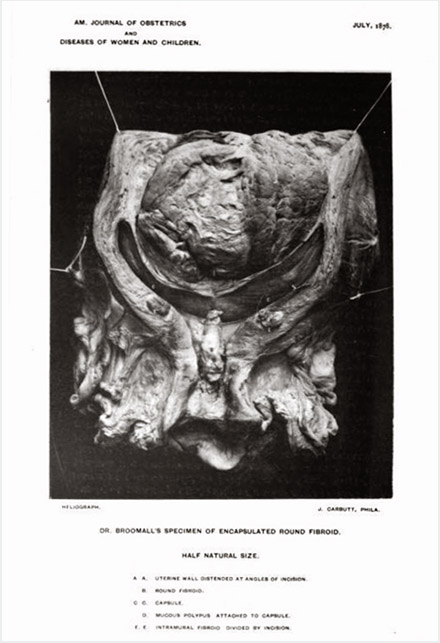 Broomall's monograph* on episiotomy standardized the procedure in America. Broomall also established one of the first prenatal care units in an American hospital and her stewardship led to a reduction of birth mortality that was noteworthy.

*Broomall, Anna E. "The operation of episiotomy as a prevention of perineal ruptures during labor" ; Am. J. Obst. xi, 517-527 ; NY: Wood, 1878.
---

©All rights reserved.