An unusual form of pustulo-ulcerative disease of the skin.
---
Bronson, Edward Bennett, 1843-1925.
Journal : Journal of cutaneous and genito-urinary diseases ; vol. 7.

New York : D. Appleton and company, 1889.

Description : 401-407 p. ; ill.: 2 phot. ; 26 cm.

Photographs : 2 photoengravings in-text (unverified).

Subject : Skin — Idiopathic diseases.

Notes :


Author caption: E. B. BRONSON, M. D., Physician to Charity Hospital.
Medical degree, New York College of Physicians, 1869.
Professor of dermatology, New York Polyclinic, 1882-1904.
Emeritus, 1904.
Read before the American Dermatological Association, Boston, Sept. 19, 1889.
Bronson died in a house fire.
Index Medicus: 11301011220.
---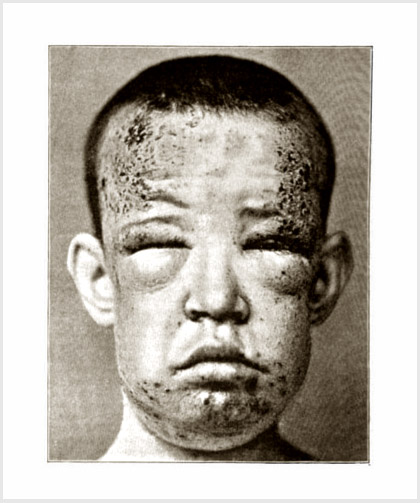 The first photograph is a close-up of the 14 year-old subject's face, the second is a close-up of his right buttock and forearm. A very interesting case which Bronson finally labeled, acne cachecticorum phlegmonosa et ulcerosa. However, Bronson notes the neuropathic symptoms and writes that the boy worked in a wallpaper factory where he was probably exposed to a combination of toxins including arsenic, lead and cadmium.
---

©All rights reserved.