Some Remarks on The operation for Hare-lip, with two Cases, and Photographs.
---
Brigham, Charles Brooks.
Western Lancet, Vol. II.

Cole, R. Beverly, M.D., ed.

San Francisco: Cubery and Company, 1874[sic].

March, 1883., pp. 129-134.

Ill.: mounted albumen, on heavy stock.

21.5cm.
---
Brigham proposes the use of waxed horse hair sutures in this passage:
...and I should like to bring to the notice of the profession an idea which I believe original, the use of sutures of horse hair, taking the hairs fresh from the horse's mane or tail. The advantage they seem to possess over other sutures lies in the little irritation which is excited by their presence. I have repeatedly left a suture of this sort in a flap during three weeks, without its showing a disposition to slough out.
Brigham presents photographs of his patient, S. George, whose disfigurement was made worse by a previous surgery that did not take hold, perhaps, as Brigham suggests, because of an attack of scarlet fever. Although the patient suffered from a probable low grade infection, the operation was successful and the results were photographed ten days later.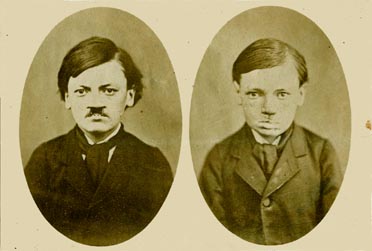 ---

©All rights reserved.