Surgical cases with illustrations.
---
Brigham, Charles Brooks, 1845-1903.
Cambridge : H. O. Houghton and Co., 1876.

Description : [1]-110 p., [12 l pl.] ; ill.: 12 photo. ; 25 cm.

Photographs : 12 heliotypes (including 1 composite).

Subject : Surgery.

Notes :


Author caption: BY CHARLES B. BRIGHAM, M. D., Harv. | Surgeon To The French Hospital At San Francisco, Member Of The California State Medical Society, Chevalier Of The Legion Of Honor.
Photographs and case notes archived at University of California, San Francisco.
Cordasco: 70-0358.
Index Medicus: 10204511050, 11309301050.
---
The following cases, with two exceptions, have been treated in the three years of my practice at San Francisco. They have been published with the hope that they would prove interesting to the Medical Profession.
The illustrations have necessarily been reversed in the process of heliotyping, but if this is borne in mind in Plates 1, 2, 4, and 5, no confusion need occur. — Preface.
• • •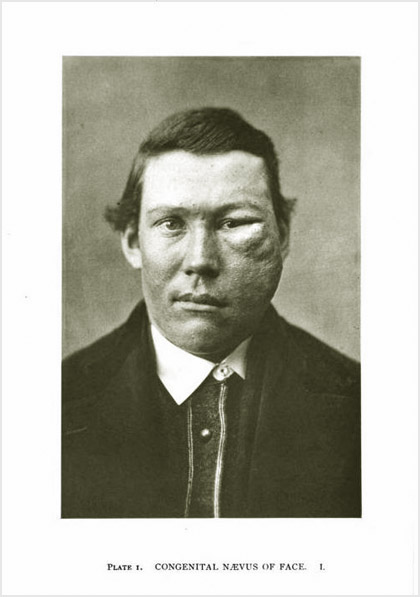 Several cases were published without their photographic illustrations in the San Francisco Western Lancet. However at least one of the plates — the two views represented by plate 2 captioned, Restoration of cheek — appeared as two separate albumen prints in that journal (vol. 2, September, 1873, pp. 505-510 vide intra: »»).
Contents : Congenital naevus of face.--Restoration of entire cheek.--Removal of upper jaw.--Operations for cleft palate.--Trephining for facial neuralgia.--Removal of parotid gland.--Gunshot wound of neck.--Cystic tumor of chest.--Congestive abcess of chest.--Resection of shoulder joint.--Resection of elbow joint.--Fibroma molluscum of elbow.--Aueurism of wrist.--Forcipressure.--Vesical calculus.--Extroversion of bladder.--Injury of penis and scrotum.--Internal urethrotomy.--External urethrotomy.--Painful anchylosis of knee.--Gangrene of foot. --Multiple exotoses of leg.--Talipes equinus.--Perforating ulcer of foot.--Sponges in surgical dressings.
---

©All rights reserved.