Variations de la personnalité.
---
Bourru, Henri, 1840-1914 ;
Burot, Prosper-Ferdinand, 1849-1921.
Paris : J.-B. Baillière & fils, 1888.

Description second edition : [1]-314 p., [2] p., [4] p. advs. ; ill.: 10 photo. figs., 1 tbl., 4 figs. ; 20 cm.

Photographs : 10 leaves photogravures, paginated ; 5 photoreproduction graphics, in-text.

Photographer : Godefroy of Rochefort-sur-Mer.

Subject : Brain — Mental disorders; Dissociative identity disorder.

Notes :


Authors caption: PAR LES DOCTEURS H. BOURRU ET P. BUROT. PROFESSEURS A L'ÉCOLE DE MÉDECINE DE ROCHEFORT.
First edition: Bourru & Burot (1886-7), Revue de l'hypnotisme et de la psychologie physiologique, vol. i (193; 236; 261).
Third edition title: La suggestion mentale et les variations de la personnalité (1895).
Named: Louis V[ivé] (1863-?).
Recensions: Berjon1 ; Myers2.
Photographer caption: D'après une photographie de M. Godefroy, photographe à Rochefort.
Index Medicus: 20800941360, 21301221160, 20206241240, 20800941100.
---
On a cherché des analogies de la mémoire dans l'ordre des phénomènes inorganiques, en particulier dans la propriété qu'ont les vibrations lumineuses de pouvoir être emmagasinées sur une feuille de papier et de persister, à l'état de vibrations silencieuses, pendant un temps plus ou moins long, prêtes à paraître à l'appel d'une substance révélatrice. Des gravures exposées aux rayons solaires et conservées dans l'obscurité peuvent, plusieurs mois après, à l'aide de réactifs spéciaux, révéler les traces persistantes de l'action photographique sur leurs surfaces '. Ces faits ont une analogie assez lointaine avec la mémoire. On y trouve la première condition de tout rappel, la conservation ; mais c'est la seule, car ici la reproduction est tellement passive, tellement dépendante de l'intervention d'un objet étranger, qu'elle ne ressemble pas à la reproduction naturelle de la mémoire. C'est que dans celle-ci nous avons affaire à des lois vitales, non à des lois physiques, et les bases de la mémoire doivent être cherchées dans les propriétés de la matière organisée, non ailleurs.—Pages 257-258.
• • •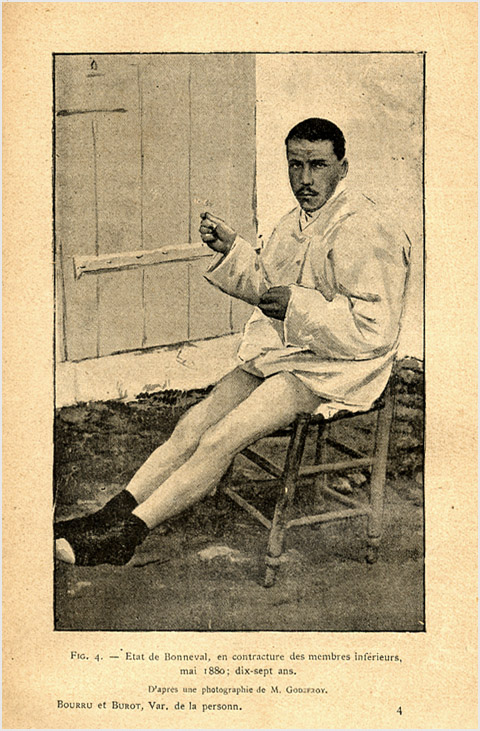 The ten photographs represent personality changes induced by hypnosis in the proteiform subject, Louis Vivé, whose profoundly dissociative personality disorder was first studied and reported by two asylum physicians, Camuset of Bonneval3 and Voisin of Hôpital Bicêtre.4 Upon his arrival at the naval hospital of Rochefort he received experimental therapy provided by Drs. Bourru and Burot whose clinical approach, metallotherapy, involved the manipulation of a variety of magnets and metals to facilitate hypnotic suggestion. Some historians attribute the origins of the cathartic method and psychoanalysis to the work of these two provincial doctors and not to the conceptions of Josef Breuer and Sigmund Freud, or even those of Pierre Janet. Bourru and Burot believed that the multiple personalities that emerged through hypnosis represented successive or completely independent hypnoid states, however, Janet found that these psychic centers coexisted.5
Louis Vivé became a cause célèbre and prominent medical scientists fell under his spell. Jules Bernard Luys became a passionate advocate of human biomagnetism and he established a school of hypnotism at la Charité in order to conduct his own research after the methods of Bourru and Burot. Luys's studies were also illustrated with photographs, published in 1887 (v. intra: »»).

1.) Berjon (1886), La grande hystérie chez l'homme..etc. Paris: J.-B. Baillière & fils.
2.) Myers (1885-6), Psychological Retrospect..etc. London: Journal of Mental Science, 31; 596-605.
3.) Camuset (1882), Un cas de dédoublement de la personnalité..etc. Paris: Ann. méd.-psych., 6. s., vii, 75-86.
4.) Voisin (1885), Note sur un cas de grande hystérie chez l'homme..etc. Paris: Arch. de neurol., x, 212-225
5.) Janet (1887), L'anesthésie systématisée et la dissociation des phénomènes psychologiques. Paris: Rev. Phil., xxiii, 449-472.
---

©All rights reserved.