Acne frontalis s. necrotica,
(Acne pilaris — Bazin).
---
Boeck, Caesar Peter Møller, 1845—1917.
Journal : Archiv für Dermatologie und Syphilis, vol. 1.

Wien : Wilhelm Braumüller, 1889.

Description : pp. 37-49, [1 l.] pl. ; ill.: 1 photo. ; 24 cm.

Photograph : 1 leaf, Lichtdruck (collotype).

Subject : Skin — Acne pilaris necrotica ; Necrotizing lymphocytic folliculitis.

Notes :


Author caption: Von Dr. Caesar Boeck, Director der Universitätsklinik far Hautkranke in Christiania.
For biographical information, vide intra: »»
German translation of Danish.
Danish title: Boeck, C. (1888), Acne frontalis s. necrotica, (Acne pilaris — Bazin). Norsk Mag. f. Lægevidensk., vol. iii, p. 793-812.
Photo caption: Taf. III. ; Boeck: Acne frontalis.
See also, Boeck »».
Index Medicus: 21100201270 (Danish title).
---
Erst am 16 Jänner 1888 sah ich den Patientin wieder. Auf den Rücken fanden sich jetzt weder Papeln noch Schorfe mehr, sondern nur Narben, von deren Verbreitung, Grösse und Form die eine Woche später genommene Photographie, die in dem mitgegebenen Lichtdrucke (Tafel III) wiedergegeben ist, eine Vorstellung geben kann. Alle kleineren Narben sind jedoch natürlich nicht sichtbar, und auch die manchmal beträchtliche Tiefe der Narben, die oft die ganze Fingerkuppe aufzunehmen vermochten, tritt nicht auf der Tafel deutlich hervor. Die frischen, neuen Narben waren stark roth oder kupferbrauu, welche Farbe wie bekannt durch das Photographireu immer sehr dunkel wiedergegeben wird. — Pp. 40-41.
• • •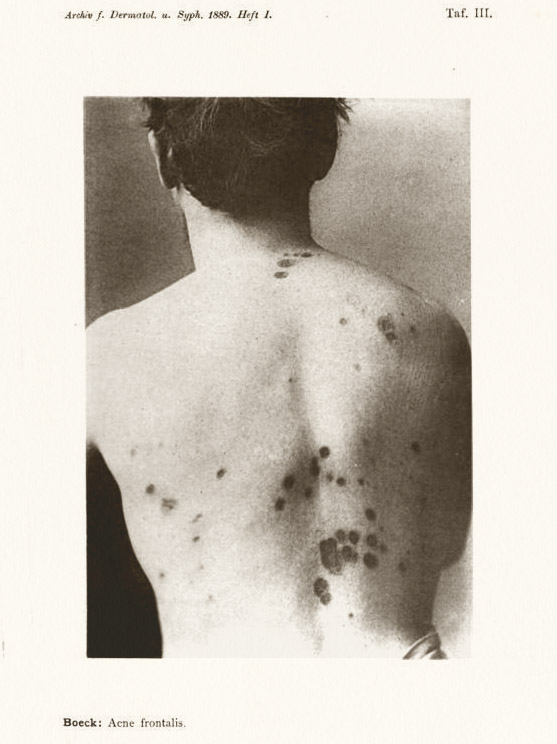 Photograph is a back view of a 31 year-old seated male subject, exhibiting with patches of necrotic skin lesions. The article is a German translation of a paper that appeared in Norsk Magazin for Laegevidenskaben and later compiled with four other papers into a monograph on rare skin diseases found in Norway.
---

©All rights reserved.