An unusual result of septic poisoning: discolored skin; diphtheria; haematuria; spores.
A graduation thesis, July, 1874.
---
Bigelow, William Sturgis, M.D., 1850–1926.
The Boston Medical and Surgical Journal.

Warren, J. Collins., M.D., & Dwight, Jr., Thomas, M.D., editors.

Boston: H. O. Houghton and Company, 1875.

volume XCII., no. 10 (March 11), pp. 277-285.

Illustrated: collotype of a drawing, on heavy paper stock.

Subject: internal medicine.

24 cm.
---
The scion of a noble line of Bostonian surgeons, William Sturgis Bigelow no doubt pleased his father with this submission to the Boston Medical and Surgical Journal which he wrote as a thesis of graduation from Harvard University in 1874. The elder Bigelow was himself a prolific contributor to the journal including an important account of the first official administration of ether which is cited in Garrison & Morton (#5651).
Like many young American physicians of the day, Dr. Bigelow departed for Europe in 1874 to continue his studies and eventually found his way to Pasteur's laboratories in Paris. What he learned in bacteriology there he brought back to America in 1879 and he used this knowledge to establish one of the first private pathology labs in this country.
Dr. Bigelow preferred the study of oriental culture over that of medicine and so he departed to Japan in 1881 for an eight year immersion in Bhuddhism and Japanese art. The knowledge and artifacts he brought back with him constituted an American correlative of the 1867 Paris Exhibition which gave European artists their first exposure to the colored woodcuts of Hokusai and Hiroshige. With over 40,000 prints in his collection, the aesthetic suasion Dr. Bigelow put to American impressionist artists would have been no less profound.
William Sturgis Bigelow was a man of mark for the highly cultivated life he led on two continents. Upon his death in 1926, his body was cremated and the ashes were divided. Half were buried by his beloved Buddhist temple in Japan and half were buried according to his family's wishes at Mount Auburn Cemetery.
The collotype accompanying this article is a reproduction of a competent drawing from Biglelow's own hand and is signed with his initials in the lower right corner.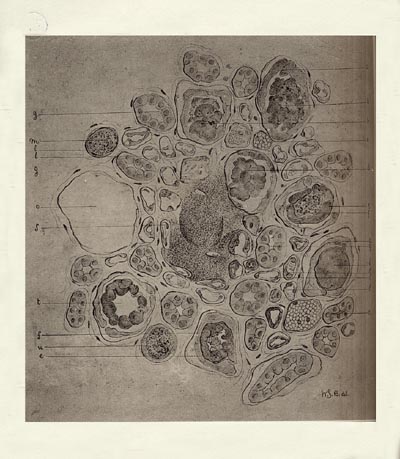 ---

©All rights reserved.