Histoire d'un monstre xiphopage.
---
Biaudet, Charles ;
Bugnion, Édouard, 1845-1939
Journal : Revue médicale de la Suisse romande ; vol. ii.

Genève : H. Georg, 1882.

Description : 121-144 p., [1 l.] pl. ; ill.: 1 phot. ; 21 cm.

Photograph : phototype.

Subject : Terata — Xiphopagus.

Notes :


Author caption: Par le Drs BIAUDET et BUGNION.
German printing: Biaudet & Bugnion (1882), Med. Cor.-Bl. d. württemb. ärztl. Ver. Stuttgart, v. lii, p. 233-238 (unverified).
Photo caption: Planche II. MARIE-ADÈLE ; à l'âge de trois mois.
Includes a good synopsis of the literature.
Index Medicus: 10903971590.
---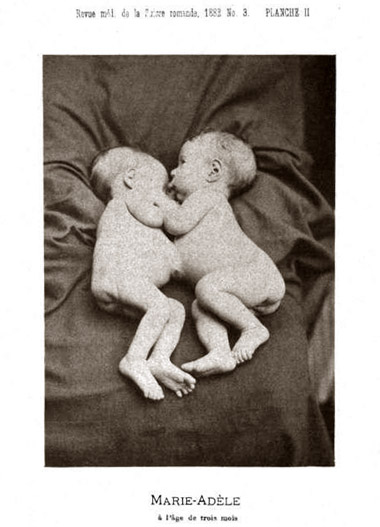 There are many citations of this paper in the literature because it reports one of the first attempts at separating siamese twins. The girls were connected by hepatic tissue and did not survive the operation.
---

©All rights reserved.