Case of ophthalmoplegia externa acuta, probably due to a scrofulous lesion of the pons Varolii; recovery.
---
Berry, Sir George Andreas, 1853-1940.
Bramwell, Sir Byrom, 1847-1931.
Journal : Edinburgh medical journal ; vol. xxxii.

Edingurgh : Oliver & Boyd ;
London : Simpkin, Marshall, & Co., 1887.

Description : 817-825 p. ; ill.: 2 phot., 2 figs. ; 23 cm.

Photograph : 2 in-text autotypes (unverified).

Subject : Brainstem — Lesions; ophthalmoplegia.

Notes :


Author caption: By George A. Berry, M.B., F.R.C.S. Edin., Ophthalmic Surgeon to the Edinburgh Royal Infirmary ;
President, Ophthalmological Society of the United Kingdom, 1909-11.
President, Royal College of Surgeons of Edinburgh, 1910-12.
Senior surgeon, eye department of the Royal Infirmary of Edinburgh.
Eponym: Berry's syndrome, genetic mandibulofacial dysostosis.
Author caption: ..and Byrom Bramwell, M.U., F.R.C.P. Edin., Assistant-Physician to the Edinburgh Royal Infirmary.
Photographs republished in Bramwell, Intracranial Tumours. Edinburgh: Pentland, 1888 (pp. 178-179).
Recension: Fox, L. Webster (1887), Ophthalmoplegia externa acuta. Phila: Amer. jour. med. sci.; vol. xciv.
Index Medicus: 20503621630.
---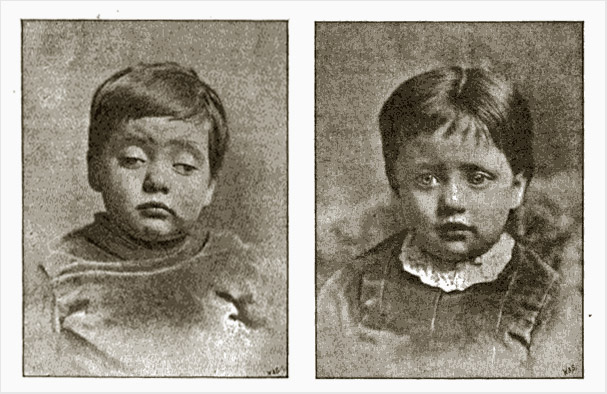 The two autotypes portray the pediatric subject, before and six months after treatment with iodide of potassium for tubercular lesion of the pons Varolii.
---

©All rights reserved.