Examples of true ankylosis of the hip-joint.
---
Bennett, Edward Hallaran, 1837-1907.
Journal : The Dublin Journal of Medical Science. Vol. lvii.

Dublin : Fannin and Co., 1874.

Description : [489]-505 p., [7 l. pl.] ; ill.: 5 photos., 1 draw., 1 engr. ; 21 cm.

Photograph : 6 autotypes representing bone specimens.

Photographer : John Chancellor.

Subject : Hip-joint — Osseous ankylosis.

Notes :


Author caption: By EDWARD H. BENNETT, M.D., M.R.I.A.; Professor of Surgery in the University of Dublin; Surgeon to Sir Patrick Dun's Hospital.
Elected President of the Pathological Society of Dublin, 1880.
Chosen President of the Royal College of Surgeons of Ireland, 1884.
President, British Medical Association Dublin, 1886.
Eponym: Bennett's double ring splint.
Eponym: Bennett's fracture — of the first metacarpal.
GM 4426: Bennett (1882), Fractures of the metacarpal bones. Dublin: Dublin J. med. Sci., vol. lxxiii.
Index Medicus: 10602191250.
---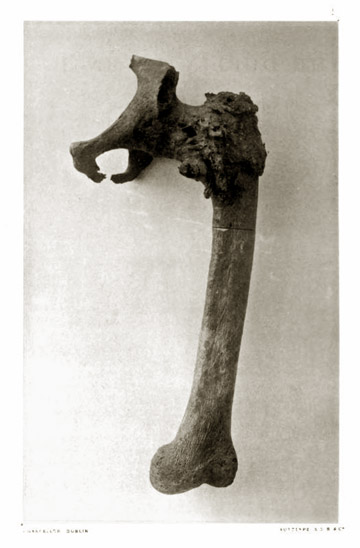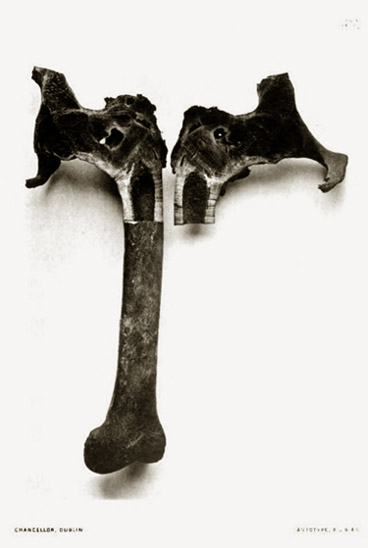 Autotype number 5 is a reproduction of a copperplate from Eduard Sandifort 1742-1814, volume 2 of his Museum anatomicum academiŠ Lugduno-BatavŠ descriptum (Luchtmans, 1793-1835).
---

©All rights reserved.