A case of closure of the jaws from bilateral ankylosis, treated successfully by excision of both angles of the inferior maxilla, after the complete failure of other methods.
---
Bennett, Sir William Henry, 1852-1931.
Journal : Transactions of the Clinical Society of London, vol. 22.

London : Longmans, Green, and Co., 1889.

Description : pp. 269-273 ; ill.: 1 photo. ; 22 cm.

Photograph : in-text photograph of the subject (process unverified).

Subject : Jaws — Ankylosis.

Photographer : Danielsson.

Notes :


Author caption: By WILLIAM H. BENNETT. Read May 10, 1888.
Bennett established a department of massage at St. George's Hospital.
Bennett's operation of posterior rhizotomy for the treatment of spasmodic pain (GM 4861.1).
Photographer's name inscribed in negative.
Index Medicus: 20804431020.
---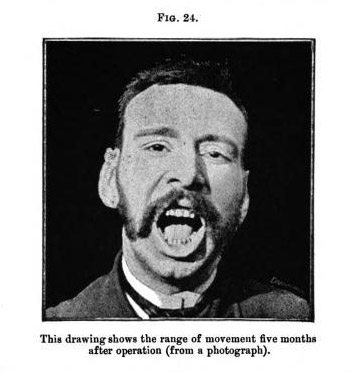 ---

©All rights reserved.