Cheiloplastic Operation.
---
Belton, W. H., A.M., M.D.
Pacific Lancet [changed to: Western Lancet], Vol. I., January.

Trenor, Eustace, A.M., M.D., and
Babcock, Heman, P., M.D., editors.

San Francisco: A. L. Bancroft and Company. 1872.

January, 1872., pp. 1-3.

Ill.: mounted albumen, on heavy stock.

Photographer: unknown, probably Bradley and Rulofson.

21.5cm.
---
The satisfaction derived from the conciousness of having relieved a serious deformity, is to the surgeon second only to that of having saved a life.
With these opening words on the surgeon's art, Dr. Belton quickens the premiere issue of the Western Lancet and then immediately gets down to business with his presentation of a repair he made to the cheek of a boy aged sixteen. The damage had occurred six years prior when a flask of gunpowder exploded in the boy's hand, tearing away the ligaments and thumb of the left hand and severely lacerating the face. Dr. Belton used a "gliding operation," cutting as far as the hyoid bone so as to slide the upper and lower margins of the wound together and then holding the portions together with silver suture and plaster. A simple procedure yielding dramatic results as is demonstrated by the before and after photographs that accompany the report. Even the vermillion of the lips can be seen to have reconstituted although the photos are substantially faded.
The first issue of the Western Lancet is actually titled The Pacific Lancet: a journal of medical and surgical science, however the name was quickly changed probably because of its similarity to the title of another San Francisco publication, The Pacific Medical and Surgical Journal. In a lectori salutem the editor promises, "The WESTERN LANCET will be published monthly, and each number will contain at least one original case or paper in each of the above six departments, as well as a photograph, or more than one, of some original specimen or case."
Nowhere in the book does there appear credit for photography. For now an attribution to the photography firm, Bradley and Rulofson will suffice for the following reasons. This establishment was the largest and most successful in San Francisco at the time and would have been a reliable service for the publication of photos. They provided mounted photographic illustrations for other publications, sometimes without imprimatur (First Steamship Pioneers.1874; Pacific coast Pulpit containing Sermons by prominent Preachers of San Francisco and Vicinity. 1875). They employed many photographers including Muybridge and Isaiah Taber and this fact would account for the stylistic differences in the photos of the Western Lancet.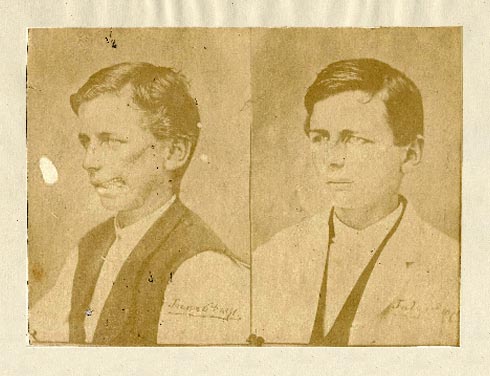 S30X625632
---

©All rights reserved.