Excision of the elbow-joint. showing results; from a series of 21 cases operated on at the Massachusetts.
---
Beach, Henry Harris Aubrey, 1843-1910.
Journal : The Boston Medical and Surgical Journal ; vol. xcvi.

Boston : H. O. Houghton and Company ;

New York : Hurd and Houghton, 1877.

Description : 1-11 p. [1 fold. l.] pl. ; ill.: 2 phot. ; 24.5 cm.

Photographs : 2 heliotypes on printed leaf.

Subject : Elbow — Excision.

Notes :


Author caption: By H. H. A. Beach, M.D., Surgeon to Out-Patients.
Sergeant, Hospital service, Civil War, 1864-1866.
Surgical house officer, Mass. General Hospital, 1867.
M.D., Harvard, 1868.
Assistant demonstrator of anatomy, Harvard, 1872-1879.
Demonstrator of anatomy, Harvard, 1879-1885.
Instructor of clinical surgery, Harvard, 1898-1900
Lecturer of clinical surgery, Harvard, 1900-.
Photo caption: Heliotypes From Photographs Of Case No. II. The figures are reversed, making the right arm appear as the left.
Named: Richard Manning Hodges (1827-1896).
Index Medicus: 10404101080.
---
Condition Ten Years after the Excision. — Can easily touch the forehead and shoulder of the same side with the hand of the injured arm. Can put on his collar, button it behind, write, and lift as much and as well as with the arm of the other side. Can easily earn fifteen hundred dollars a year by mechanical work which requires the use of both arms. Has for several years run a stationary engine and made his own repairs. Has good sensation throughout the limb, and perfect motion of wrist and finger joints. (See heliotypes.)—Page 3.
• • •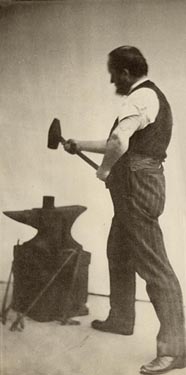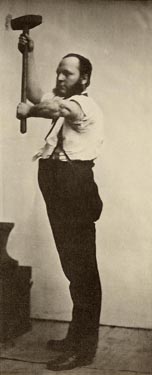 The two heliotypes represent full body images of a 24 year-old male patient, a machinist by trade, who is posed as though he were swinging a long handled sledge. His sleeve is rolled up to demonstrate the robust function of muscle cords that connect his forearm to his upper arm over the space of the divested joint. The 21 brief descriptions of elbow-joint excision that are collected for this report all took place under the direction of Harvard surgeon, Dr. Richard Manning Hodges (1827-1896). They provide a fascinating glimpse into the perils of the working man in the 1870's—his wounds caused by milling machinery, kicking horses, buntering rail cars, falling rocks, jiggling tub-saws and jolleying lathes.
Dr. Beach devoted most of his life to anatomical instruction at Harvard and to surgery in the Harvard wards of Mass. General. He enjoyed a long and close association with Oliver Wendell Holmes, but his ultimate legacy was eclipsed by that of his much younger wife, Amy Beach (1867–1944), a renown musical composer, performer, and singer of art songs and German Lieder.
---

©All rights reserved.