On the cure of club-foot without cutting tendons;
and on certain new methods of treating other deformities.
---
Barwell, Richard, 1827-1916.
London : Robert Hardwicke, 1865.

Description : 1 l. front., xx, [1]-231 p. ; illus.: 28 photo., woodcuts ; 20 cm.

Photographs : 28 mounted albumens on 10 leaves.

Subject : Foot — Orthopædia (of).

Notes :


Author caption: RICHARD BARWELL, F.R.C.S. ASSISTANT-SURGEON, CHARING-CROSS HOSPITAL ; AUTHOR OF "A TREATISE ON DISEASES OF THE JOINTS."
Second edition, revised and greatly enlarged.
London first edition: J. Churchill & Sons, 1863 (w/o photographs).
Index Medicus: 11002051360 (1st ed.) ; 10107871310, 11002051370.
Cited :

Gernsheim, Helmut, Incunabula of British Photographic Literature number 281:

The second edition was illustrated, for the first time, with 28 photographs, each 3.8 x 3.8 cm.
---
The first edition of this little book appeared in the early part of 1863 ; for the present edition, the letter-press has been carefully revised — in great part re-written — two new chapters have been added, but the model of its original conception remains the same. The illustrations on wood have been augmented; but I have thought it desirable to add a number of photographic plates — these illustrate my meaning, and the results of practice perfectly well ; but many of them are, as photographs, bad. I am quite aware of their shortcomings, but they are unavoidable; patients must be photographed when they come, or not at all, and many of the plates were taken under the most adverse circumstances of light and weather. — Preface, page xi.
• • •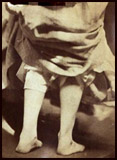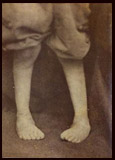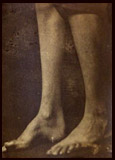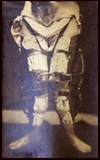 Barwell was very knowledgeable about photography and he subsequently adapted the camera as a diagnostic instrument in his work with cases of spinal deformity and pelvic deviation. In all probability, he was the creator of the albumens used to illustrate this charming little book. The photographs are doubled up on 7 of the leaves. The frontispiece has 6 images and two other leaves have 5 and 3 images each.
---

©All rights reserved.