On the cure of club-foot without cutting tendons; and on certain new methods of treating other deformities.
---
Barwell, Richard, 1827-1916.
London : Robert Hardwicke, 1865.

Description : [1 l.] front., xx, [1]-231 p. ; illus.: 28 phots., woodcuts ; 20 cm.

Photographs : 28 mounted albumens on 10 leaves.

Photographer : Dr. Richard Barwell.

Subject : Foot — Deformities ; treatment.

Notes :

Author caption: RICHARD BARWELL, F.R.C.S. ASSISTANT-SURGEON, CHARING-CROSS HOSPITAL ; AUTHOR OF "A TREATISE ON DISEASES OF THE JOINTS."
Training, St. Thomas's Hospital, London.
Dresser for Joseph Henry Green (1791-1863).
M.R.C.S., 1847.
Demonstrator, St Thomas's Hospital Medical School, London.
Assistant Surgeon, Charing Cross Hospital, London, 1855.
Instructor, Comparative anatomy, Charing Cross Hospital Medical School, 1856-1874.
F.R.C.S., 1858.
Surgeon, Charing Cross Hospital, 1872-1888.
London first edition: J. Churchill & Sons, 1863 (w/o photographs).
Second edition, revised and greatly enlarged.
Gernsheim (1984): no. 281.
Provenance: Malcolm Jay Kottler, 2018.
Index Medicus: 11002051360 & 10107871300 (1st eds.) ; 10107871310, 11002051370.
Cited :

Gernsheim, Helmut, Incunabula of British Photographic Literature number 281:

The second edition was illustrated, for the first time, with 28 photographs, each 3.8 x 3.8 cm.
---
The first edition of this little book appeared in the early part of 1863 ; for the present edition, the letter-press has been carefully revised — in great part re-written — two new chapters have been added, but the model of its original conception remains the same. The illustrations on wood have been augmented; but I have thought it desirable to add a number of photographic plates — these illustrate my meaning, and the results of practice perfectly well ; but many of them are, as photographs, bad. I am quite aware of their shortcomings, but they are unavoidable; patients must be photographed when they come, or not at all, and many of the plates were taken under the most adverse circumstances of light and weather. — Preface, page xi.
• • •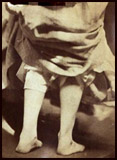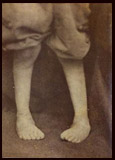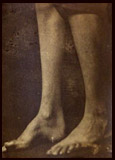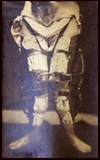 Barwell was a knowledgeable photographer and an early adopter of the camera as a diagnostic instrument in orthopedia, particularly when used in conjunction with his instruments for measuring pelvic version and rotation of the spine. A few anecdotes of his camera work and a thoughtful explication on the empathic posing and photographing of the spinal patient can be found in the sixth edition of his treatise, "Lateral Curvature of the Spine and Pelvic Deviations" (Barwell, 1905, p. 17-26). In all probability, he was the creator of the negatives used to illustrate this charming little book. Compositionally, they are all identical shots of feet and lower legs, up to the hems of hoisted garments. Taken under difficult circumstances, whether there was sufficient sunlight or not, many of the images are either too dark, or washed out. Barwell apologizes for the poor quality of the photographs in his preface. The photographs are doubled up on 7 of the leaves. The frontispiece has 6 images and two other leaves have 5 and 3 images each.
---

©All rights reserved.