Un cas de crétinisme sporadique avec pseudo-lipomes symétriques sus-claviculaires.
---
Arnozan, Charles Louis Xavier, 1852-1928.
Régis, Emmanuel, 1855-1918.
Journal : L'Encéphale.

Paris : J.-B. Baillière, 1888.

Description : 697-709 p., [4 l.] pl. ; ill.: 4 photos. (1 draw.). ; 22 cm.

Photographs : Collotypes — 2 cameo ports., 1 full nude, 1 specimen.

Subject : Endocrine system — Sporadic cretinism.

Notes :


Author caption: Par les Drs. X. ARNOZAN et E. RÉGIS.
Also printed in Mémoires et Bulletins de la Société de médecine et de chirurgie de Bordeaux (p. 396-409, 2 pl.).
Offprint: Arnozan & Régis (1888), Un cas de crétinisme..etc. Paris: Gounouilhou.
GM 3946: Arnozan & Vaillard (1884), Contribution à l'étude du pancreas du lapin. Paris:

Arnozan and Vaillard showed that blockage of the pancreatic ducts caused atrophy of the pancreas but not diabetes.

Plate IV of a specimen reproduced from Dr. Fletcher Beach.
Reference: Beach (1881), The morphological and histological aspects of microcephalic and cretinoid idiocy. Journal: Trans. inter. med. cong. 7th sess., p. 615-631.
Index Medicus: 20310241350, 20310261040.
---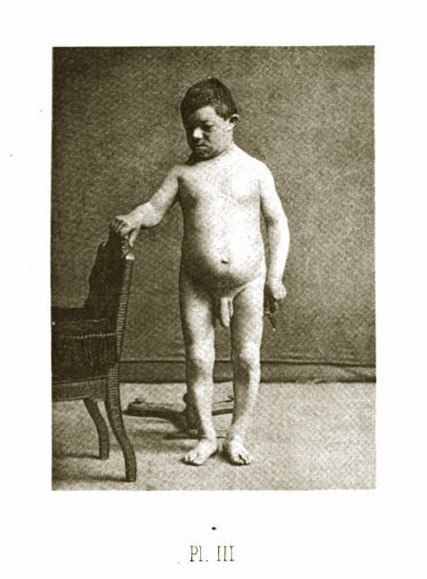 ---

©All rights reserved.