Case of tubercular leprosy.
---
Anderson, Sir Thomas M'Call, 1836-1908.
Journal : Glasgow Medical Journal ; vol. xxiii.

Glasgow : Alex. MacDougall ;
London : H. K. Lewis, 1885.

Description : 303-305 p., [1 l.] pl. ; ill.: 1 phot. ; 22 cm.

Photograph : portrait of the clinical subject.

Photographer : W. F. Sommerville, M.B.

Subject : Skin — Tubercular leprosy.

Notes :


Author caption: PROFESSOR M•CALL ANDERSON also showed a case of TUBERCULAR LEPROSY..
First to hold the chair of clinical medicine at Glasgow.
Honorary Physician to the King in Scotland.
GM 3993: On the Parasitic Affections of the Skin. London: Churchill, 1861.
Reprint: Trans. Glasg. Path. & Clin. Soc. Glasgow: vol. ii., 1884-86, (pp. 51-56 & pl.).
Caption: Photograph of case of leprosy described in April No. of the Glasgow Medical Journal, page 303.
Index Medicus: 20904321540 (reprint).
---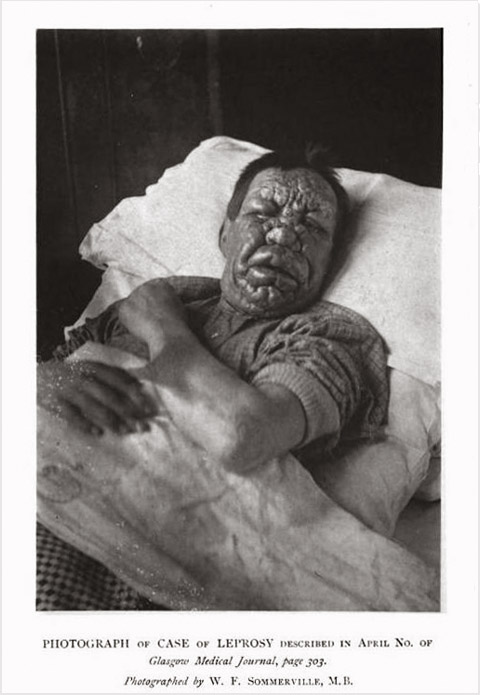 Three page abstract and discussion of the case, the photograph printed in a later later number of the GMJ — the subject was a 25 year-old coal merchant who was born in India and lived there until the age of 18 when he resettled in Scotland. Doctor M'Call Anderson enjoyed an international reputation as an eminent dermatologist. The photographer, Dr. W. F. Sommerville, later became known for his studies on vasomotor response to high-frequency current.
---

©All rights reserved.